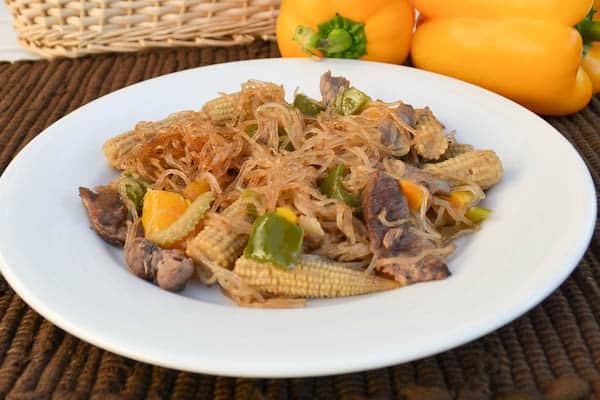 This past Sunday, my youngest son packed his things and moved to his dorm for the semester 🙁 . Before he left, we decided to cook something that we both love: sirloin steak.  We found this recipe that not only has beef as the main protein but also consists of some vegetables we love: bell peppers, celery and young corn. To make it more delectable, we decided to add vermicelli noodles to the dish.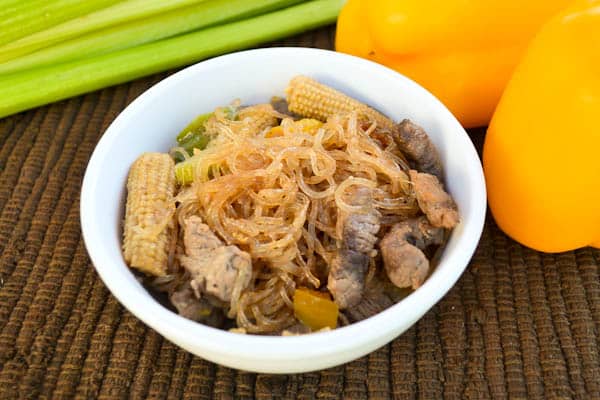 Someone asked me for more simple recipes. Here it is. It looks like it has too many ingredients but most of them, except for the five spice powder, are just the usual ones we use for everyday cooking.  This dish is incredibly easy to cook once the prep has been done.  Less than half an hour and I have a delicious meal ready on the table 🙂

Beef Stir Fry with Vermicelli Noodles
Ingredients
500g (1 lb) sirloin or rump steak
1 tablespoon soy sauce
1 egg white, lightly beaten
1 tablespoon cornstarch
¼ teaspoon ground black pepper
2 tablespoons peanut or vegetable oil
1 tablespoon grated fresh ginger
¼ teaspoon five spice powder
1 small green bell pepper, cubed
1 small red, yellow or orange bell pepper, cubed
2 sticks celery, thinly sliced
425g (131/2oz) can whole baby corn, drained and cut into halves
2 tablespoon oyster sauce
5 oz vermicelli (bean thread) noodles, soaked in hot water until soft and then drained
Instructions
Trim the meat of any fat and sinew, and slice into long, thin strips. Combine the soy sauce, egg white, cornstarch and ground pepper; add the meat, stirring to coat.
Heat 1 tablespoon oil in a wok. Add the ginger, five spice powder, bell peppers, celery and corn. Stir-fry over high heat for 2 minutes or until just beginning to soften. Remove from wok and set aside.
Heat the remaining oil and cook the meat quickly over high heat until browned but not cooked through.
Return all the meat to the wok with the vegetables and add the oyster sauce. Stir-fry over high heat until meat is cooked. Stir in vermicelli. Continue stirring until noodles are fully incorporated and cooked.
Remove from heat and serve immediately. Enjoy!
Notes
Adapted from "The Essential Asian Cookbook"