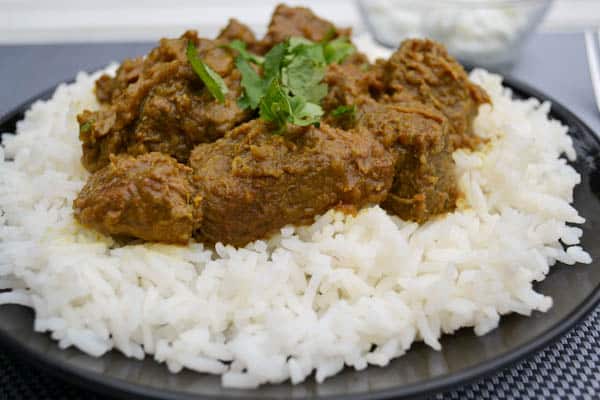 Our family is very fond of Indian cuisine. The family favorites include samosa, butter chicken, tandoori chicken and chicken biryani. My youngest son introduced us to a new dish, vindaloo, which is now one of our favorites to order when we eat at an Indian Restaurant.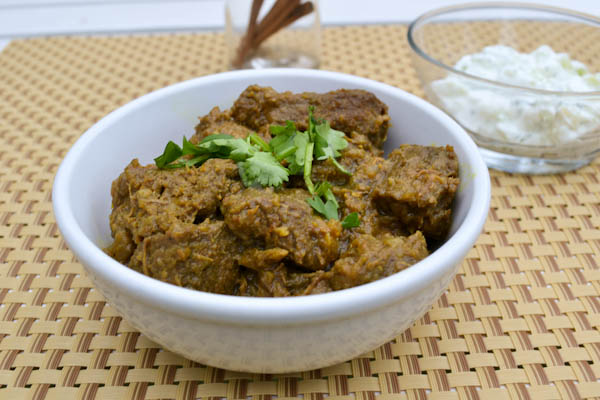 When I was looking through my piles of cooking books, I came across two recipes for beef vindaloo. The first one is a simple and easy one. It only requires opening a jar of vindaloo paste, an onion, tomatoes and meat. The second one requires grinding your own spices and sautéing it with the rest of the ingredients. I opted for the second one for the simple reason that I have most of the ingredients in my pantry.  It took one hour and forty-five minutes to make this dish. But it was worth it.  The meat was very tender and flavorful. A sprinkle of cilantro makes this dish even more delicious 🙂

Beef Vindaloo
Ingredients
1 kg (2lb) stewing beef, cut into 1 inch cube
½ teaspoon ground cumin
1 tablespoon coriander seeds
½ teaspoon cardamom seeds
1 teaspoon ground fenugreek
2 teaspoons chilli powder
1 teaspoon ground turmeric
1 teaspoon mustard powder
2 tablespoon vegetable oil
3 medium onions, sliced
3 teaspoons grated fresh ginger
3 cloves garlic, minced
1 cinnamon stick
1 cup red wine or beef stock
1 teaspoon sugar
Chopped cilantro
Instructions
Place the cumin, coriander and cardamom seeds, fenugreek, chilli powder, turmeric and mustard powder in a food processor and processed until finely ground.
Heat the oil in a large pan, add the meat in 2 batches and cook over medium heat until browned all over. Transfer the meat to a bowl.
Add the onion, ginger, garlic and cinnamon to the pan, and stir over low heat until the onion is soft.
Add the spices and meat and stir until the meat is well coated. Add wine and sugar, and salt and pepper to taste.
Cover and cook over low heat for 1 ½ hours, or until the meat is tender. Stir constantly and add more beef stock or water as needed.
Remove the cinnamon stick before serving.
Sprinkle with chopped cilantro and serve with rice.
Enjoy!
Notes
This recipe is adapted from "The Essential Asian Cookbook".