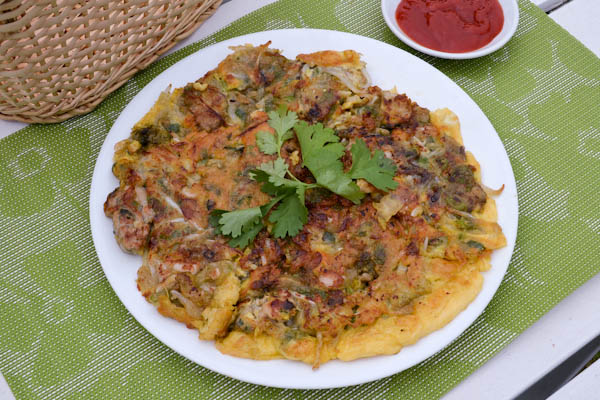 My oldest son has been asking me to cook oyster cake for a long time. It is one of his favorite dishes to order every time he eats at Phnom Penh, a famous Cambodian restaurant in Chinatown here in Vancouver.  I finally made it on the weekend and the whole family loved it.  I have made it before, but this time I used a different recipe, resulting a better tasting oyster cake. My husband says that "it tastes like what an o-chien should taste".
O-chien is the Fukien word for oyster cake.  It is made of oysters, bean sprouts and green onions, mixed with tapioca starch and then fried with eggs. The result is a golden brown, sticky and delicious omelette-like dish that my oldest son keeps raving about 🙂

Oyster Cake (O-chien)
Ingredients
1 (16oz) jar oysters, rinsed and drained
½ cup bean sprouts, washed and drained
½ cup chopped green onions
1 teaspoon salt
½ teaspoon white pepper
2 eggs, beaten
1 cup tapioca starch
½ cup vegetable oil
Instructions
In a medium bowl, mix oysters, bean sprouts, green onions, salt and pepper.
Add tapioca starch and mix well.
Heat oil in a large non-stick skillet over medium-high heat. Pour mixture onto the skillet, spreading it throughout until flat.
Add beaten eggs, spreading it evenly over and around the mixture. Cook until eggs have set.
Flip it over and cook the other side until golden brown.
Serve with ketchup or fish sauce.
Enjoy!