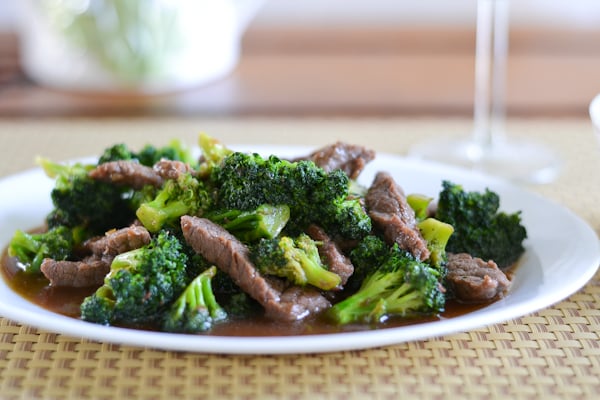 This beef with broccoli dish reminds me of my cousin's mom who is a great cook. She cooks delicious, authentic Chinese dishes, which she learned from her mother-in-law. One of her specialties is beef with broccoli, which I thought was a difficult and tedious dish to make. I was wrong!
Beef with broccoli is a simple and easy to follow recipe. It is one of those dishes that I would cook when I am pressed for time. It consists of strips of beef simply marinated in soy sauce, rice wine and cornstarch. It is then sautéed with garlic and broccoli. Oyster sauce is added to flavor this dish. It is best served with steamed rice. Yummy! 😀

Beef with Broccoli
Ingredients
½ lb beef sirloin tip steak
½ lb broccoli florets
3 tablespoons olive oil
2 cloves garlic, chopped
¼ cup oyster sauce
1 tablespoon soy sauce
½ teaspoon sugar
Marinade:
1 teaspoon soy sauce
2 teaspoons rice wine or sherry
1 tablespoon cornstarch
Instructions
Slice sirloin steak into thin, narrow strips.
Put in a bowl with 1 teaspoon soy sauce, rice wine and cornstarch. Mix well. Set aside for 20 minutes.
Blanch the broccoli florets with hot boiling water for 1 minute. Drain and set aside.
Heat the oil in a wok or frying pan. Add garlic and stir fry for a few seconds.
Add beef and stir fry until the meat is cooked, around 3 minutes.
Add the broccoli, oyster sauce, sugar and 1 tablespoon soy sauce. Stir-fry the mixture until well blended.
Transfer to a serving plate.
Enjoy!