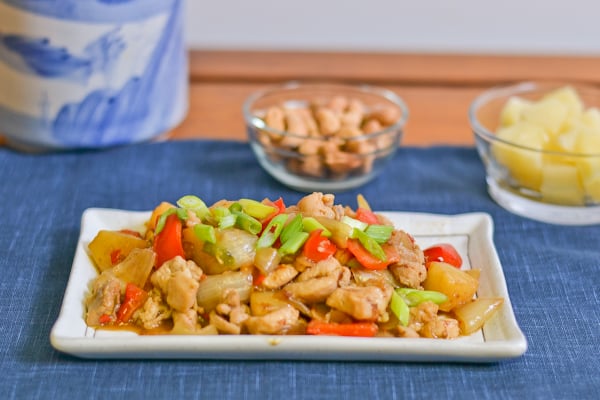 I went back to work yesterday after two weeks of being off. It was busy but great two weeks. My three boys were home at different times but were able to spend a day together with me and my husband. We all had fun playing games and laughing from each other's jokes and funny remarks.
Yesterday, I also went back to my normal routine of coming home from work to an empty house. After walking on the treadmill for 35 minutes, I made a simple chicken dish for dinner. I found the recipe from one of my cookbooks. It consists of chopped chicken thighs stir-fried with garlic, onion, red chillies, bell peppers, pineapple and cashews. Oyster sauce was used to flavor this dish. The result was a delicious chicken dish that has a bit of kick to it. If you are not a fan of spicy food, feel free to omit the chillies. I am pretty sure it will still taste good 🙂

Chicken with Pineapple and Cashews
Ingredients
½ cup roasted cashews
2 tablespoons olive oil
1 large onion, cut into large chunks
4 cloves garlic, finely chopped
4 small red chilies, deseeded and chopped (optional)
350g (11 ¼ oz) chicken thigh fillets, chopped
½ red bell pepper, chopped
½ green bell pepper, chopped
3 tablespoons oyster sauce
1 tablespoon fish sauce
1 teaspoon sugar
2 cups pineapple chunks
3 green onions, chopped
Instructions
Heat the oil in a wok or large, deep frying pan; add the onion, garlic and chilli, if using. Stir-fry over medium heat for 2 minutes. Remove from the pan.
Increase the heat to high; add the chicken and red and green bell peppers. Stir-fry until the chicken is light brown, around 2 minutes.
Return the onion mixture to the pan; add the oyster sauce, fish sauce, sugar and pineapple and toss for 2 minutes. Toss the cashews through.
Transfer to a serving plate and sprinkle with chopped green onions.
Serve and enjoy!
Notes
This recipe was adapted from the cookbook ``The Essential Asian Cookbook".