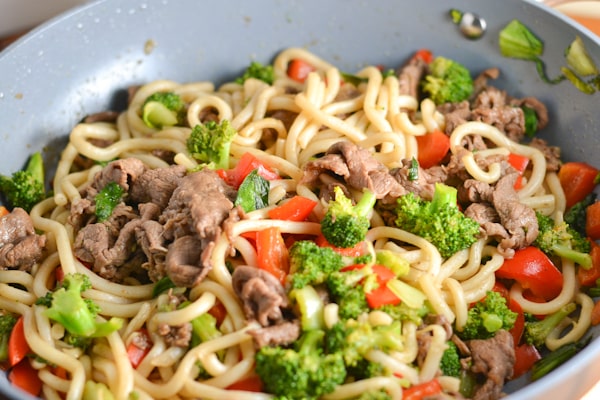 Noodles are a comfort food for me and enjoyed by everyone in my family. We enjoy all kinds of noodle dishes, and this dish was no exception. My youngest son and I would always order this dish to-go during the weekdays from one of our favourite Japanese restaurants. I was excited when I found this recipe online to try out for myself.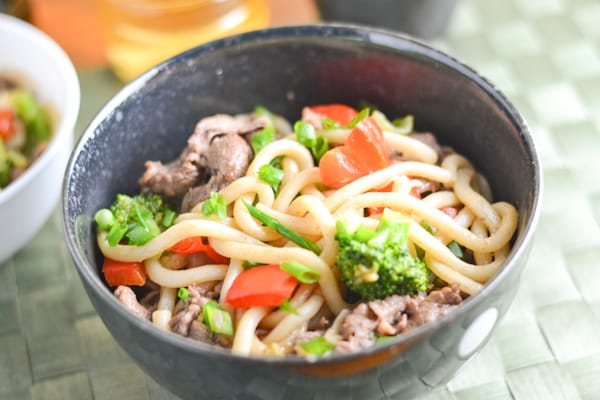 This beef yaki udon dish is very flexible. You can add many different vegetables such as zucchini, carrots, mushrooms or cabbage. The sauce consists of yakisoba sauce which can be bought at any Asian store (I bought mine at T&T Supermarket). The dish as a whole was satisfying and complete, consisting of protein, vegetables and carbs. I love this dish because it's very easy to make and convenient when pressed for time.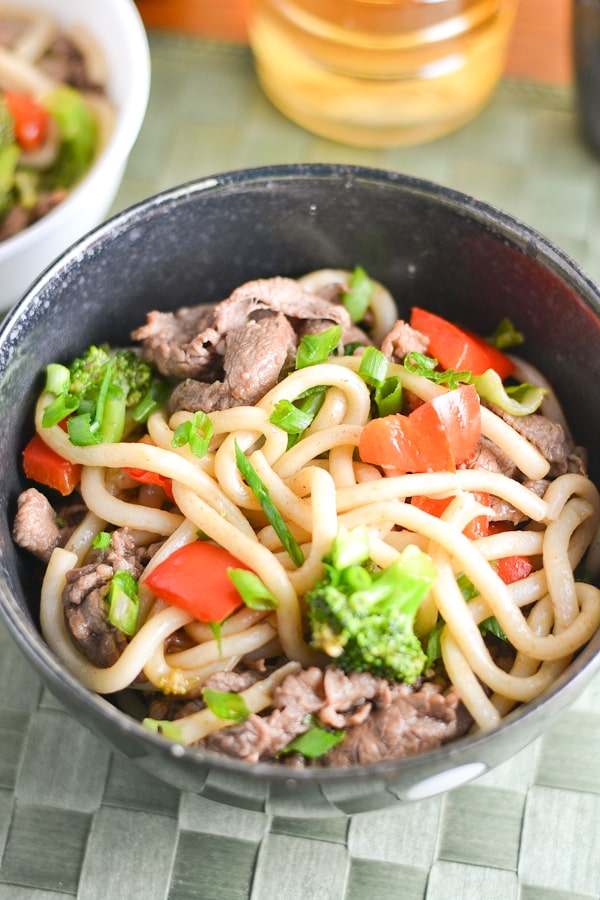 Beef Yaki Udon
Ingredients
2 tbsp soy sauce
2 tbsp mirin
2 tbsp yakisoba sauce (found in Asian grocery stores)
1 lb thinly sliced beef (beef used for shabu shabu or sukiyaki)
3 (200 g) package fresh udon noodle
4 tbsp olive oil, divided
1 red bell pepper, seeded and cubed
2 cups partially cooked broccoli florets
3 bok choy, chopped
Chopped green onions
Instructions
In a small bowl, whisk together soy sauce, mirin and yakisoba sauce. Set aside.
In a separate bowl, mix beef with 1 tbsp of the sauce. Set aside.
In a medium pot, cook udon in boiling water for 2-3 minutes. Rinse with cold water and drain. Set aside.
In a large frying pan or wok, add 2 tbsp oil and heat on medium high heat. Add beef and stir-fry briefly until no longer pink. Using a tong, transfer beef to a plate, discarding accumulated juices.
Wipe pan clean with paper towels. Add remaining 2 tbsp oil in now empty pan. Add red bell pepper, broccoli and bok choy. Sauté for 3-5 minutes or until vegetables are crisp tender. Add cooked beef, noodles and sauce. Gently stir until well combined. Sprinkle with green onions.