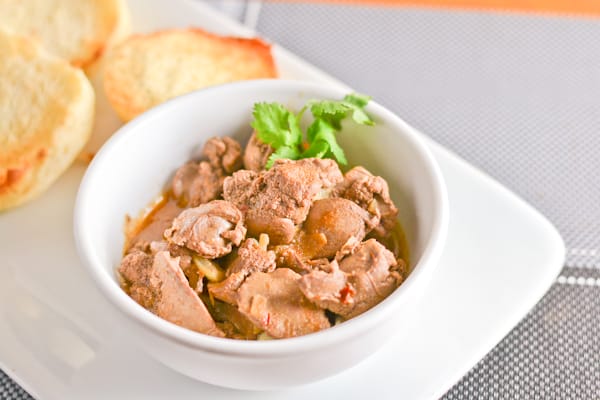 Liver is a dish that not everyone enjoys. My husband and one of my sons enjoy eating liver, but my other two sons do not. For me, I grew up eating all types of liver whether it is pork, beef or chicken.  There are also several popular Filipino dishes I grew up eating that use chicken liver such as chicken adobo.
Peri Peri Chicken Liver is one of our favourite dishes to order when we eat at Nando's, a restaurant specializing in chicken here in Vancouver. So, I was excited when I stumbled upon this recipe. The recipe uses familiar and easily accessible ingredients. I did not have brandy and the dish tasted great without it. However, you may use it if you like. It is also important not to overcook the liver.
My husband and son ended up loving this dish especially with toasted bread.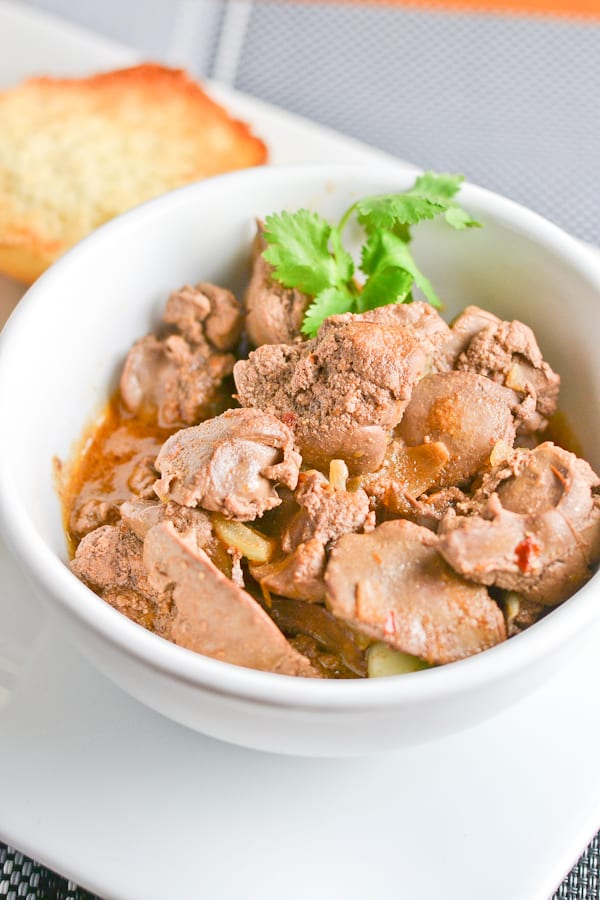 Peri Peri Chicken Liver
Ingredients
1 lb chicken liver, trimmed and cut into bite-size pieces
1 tbsp olive oil
1 tbsp butter
1 medium onion, chopped
1 tbsp tomato paste
1 tbsp Worcestershire sauce
½ cup chicken stock
1 tbsp brandy (optional)
Marinade
3 tbsp olive oil
3 tbsp red wine vinegar
1 tbsp fresh lemon juice
2 cloves garlic, crushed
1 tsp ground cumin
1 tsp ground coriander
1-2 tsp crushed red pepper flakes or to taste
2 bay leaves
Sea salt and freshly ground black pepper to taste
Instructions
Place chicken liver in a large bowl, pour in 3 tablespoons olive oil, vinegar, and lemon juice; season with garlic, cumin, coriander, red pepper flakes, bay leaves, salt, and pepper. Stir together, and refrigerate for 1 to 2 hours.
Drain liver from the marinade and reserve marinade.
In a large skillet, heat 1 tablespoon olive oil and butter over medium heat. Add onion; cook for 7 minutes or until browned and soft. Increase heat to medium-high; stir in chicken liver and cook for 2 minutes, being careful not to overcook the liver. Stir in the tomato paste, Worcestershire sauce, chicken stock, and the reserved marinade. Simmer gently for 5 minutes. Pour in brandy, if using and heat through.