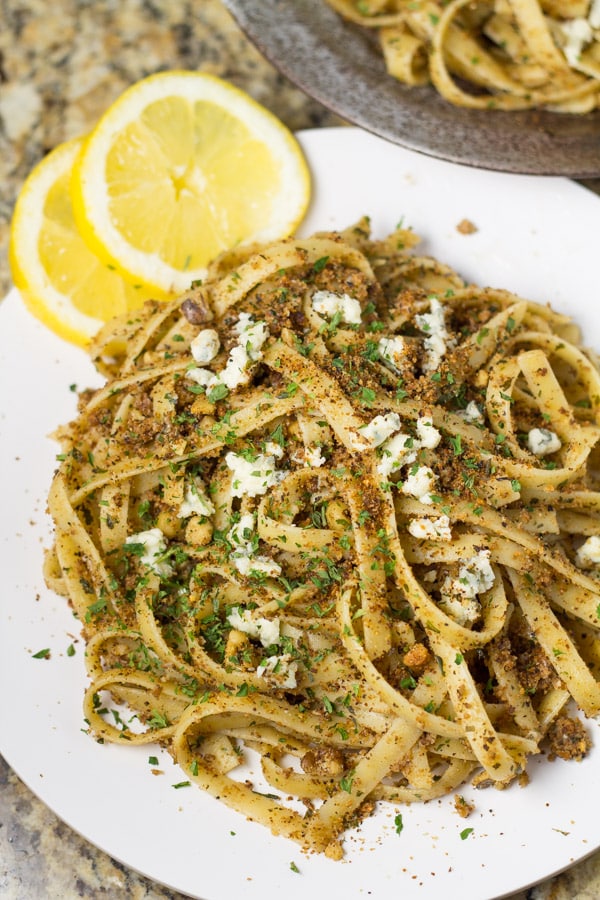 If you are a big fan of blue cheese like me, then you will love this blue cheese pasta recipe. A generous amount of blue cheese is used to create this very tasty dish. The toasted breadcrumbs, garlic and walnuts add a crunchy texture while the lemon juice adds the right amount of acidity. Overall, I was happy with the dish and would make it again.
In this blue cheese pasta dish, I used fettuccine, but any type of pasta will also work. This dish is so easy and quick to make. After cooking the pasta to al dente, it is tossed in a mixture of blue cheese and lemon juice. Walnuts, bread crumbs, garlic and parsley are toasted in a skillet and the tossed in the pasta.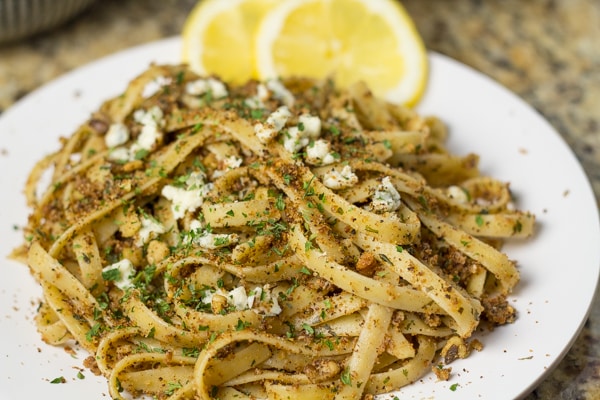 Blue Cheese Pasta with Lemon and Walnuts
Ingredients
3 tbsp. olive oil
½ cups bread crumbs
¼ cups finely chopped walnuts
3 cloves garlic, finely chopped
3 tbsp. Chopped parsley
1 lbs of your favorite pasta
4 oz. blue cheese, crumbled
¼ cup of lemon juice
½ cup pasta water, reserved
Salt and pepper to taste
Instructions
Cook the pasta according to the package instructions. Reserved ½ cup of the water used to cook the pasta.
In a large skillet, heat 1 tbsp of olive oil in medium heat. Add the garlic, bread crumbs, walnuts and parsley. Stir and heat until the bread crumbs are browned, about 3-5 minutes.
In a large bowl, toss the cooked pasta in the blue cheese, lemon, 2 tbsp of olive oil and the reserved pasta water.
Add the bread crumb mixture and toss until well coated. Add salt and pepper to taste.