My 5 and 8 year old great nieces were coming over to my house so I made these blueberry chocolate chip muffins for them. I used the blueberries I picked from my garden and chocolate chips. My great nieces love these delicious muffins and so does my family. I am not surprised because my family loves blueberries and who doesn't love chocolate chips?  Blueberries and chocolate chips together are a great combination. The nutmeg mixture sprinkled on top makes it taste even better. After 30 minutes in the oven, the muffins came out nice and moist inside and crispy on top. Have these moist blueberry chocolate chip muffins as a snack or for breakfast. Enjoy!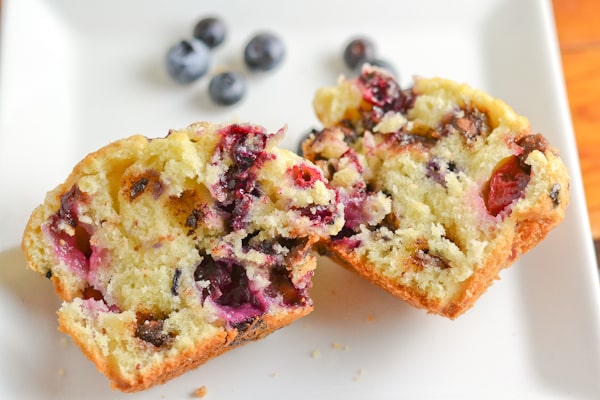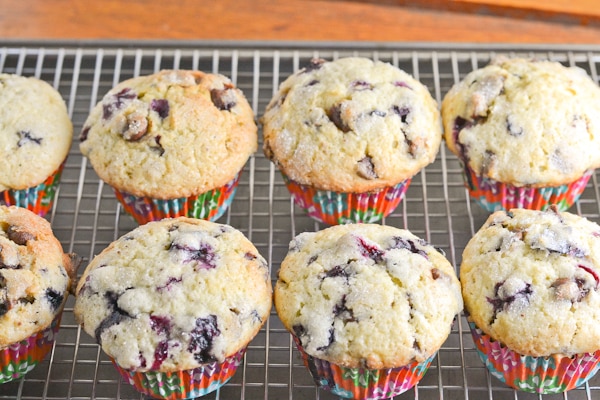 Blueberry Chocolate Chip Muffins
Ingredients
½ cup (1 stick) butter, at room temperature
1 cup plus 1 tbsp granulated sugar
2 large eggs
1 tsp vanilla extract
2 tsp baking powder
¼ tsp salt
1½ cups blueberries (mash ½ cup with a fork)
2 cups all purpose flour
½ cup milk
1 cup chocolate chips
¼ tsp ground nutmeg
Instructions
Preheat oven to 375 degrees F. Grease 12 muffin cups, or use muffin papers.
In a medium bowl, beat butter until creamy. Add sugar and beat until pale and fluffy. Beat in eggs, then vanilla, baking powder, and salt. Stir mashed berries into batter. Fold half the flour into the butter mixture, then half the milk. Add remaining flour and milk until combined. Fold in remaining blueberries and chocolate chips.
In a separate small bowl, combine ground nutmeg and 1 tablespoon sugar. Scoop batter into muffin cups and sprinkle with nutmeg mixture.
Bake 25 to 30 minutes, until golden brown. Set muffins onto a wire rack and let cool for at least 20 minutes before removing from pan. Serve immediately or freeze until ready to eat.