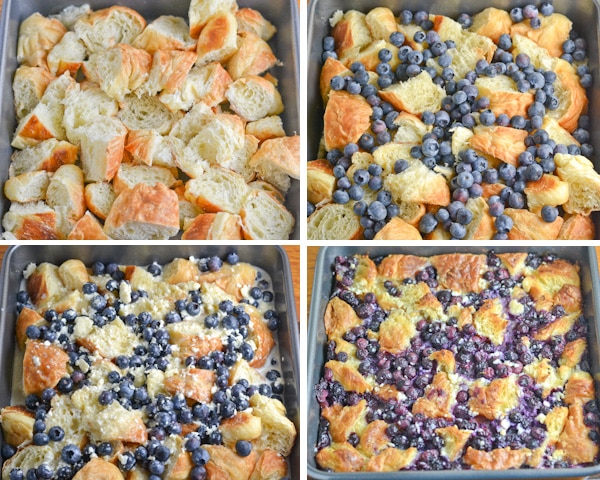 It is two weeks into my summer vacation and it has already been quite busy and productive. I start every morning with a walk and I am quite happy with my progress. I am also spending a lot of my time tending to the flowers, herbs, vegetables and fruit tree/bushes in my garden. It has been really hot lately, so I have been watering them regularly. Furthermore, our blueberries have been growing rapidly and I have to pick them every two days. We are lucky to be able to enjoy these blueberries with oats, yogurt or on their own. Once in a while, I use the blueberries in baking. An example is this breakfast croissant puff.  This recipe is so simple and easy. Cut-up croissant and blueberries were soaked in a cream cheese/egg/milk mixture and then baked. The croissant and blueberries in the bed of custard was so delicious, we had it for dessert after dinner. My husband and I had it also with coffee for breakfast the next day. Yummy!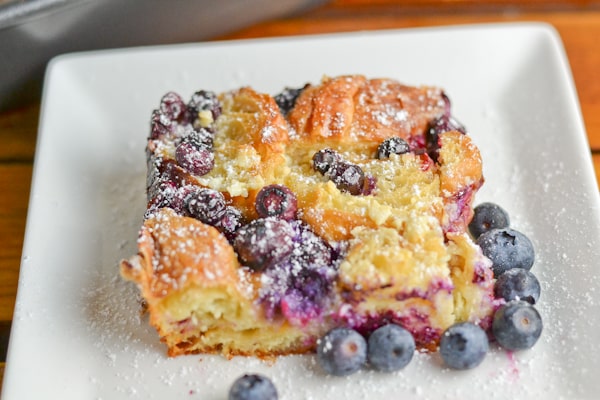 Blueberry Croissant Puff
Ingredients
3 large croissants, cut up
1 cup fresh or frozen blueberries
1 package (8 oz.) cream cheese, softened
⅔ cup sugar
2 eggs
1 tsp vanilla
1 cup milk
Instructions
Place croissant pieces in a 9 inch square pan. Sprinkle with blueberries.
Beat cream cheese, sugar, eggs and vanilla in medium bowl with electric mixer until well blended. Gradually add milk, beating well after each addition. Pour evenly over croissant pieces. Let stand for 20 minutes.
Bake at preheated 350°F oven for 35 to 40 minutes or until set in center and golden brown. You may want to cover it with foil for the last 10 minutes if the tops are getting too browned. Let cool in the pan for few minutes.
Serve sprinkled with powdered sugar. Enjoy!