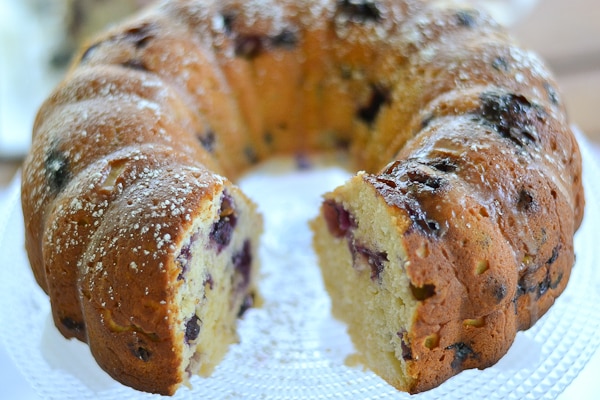 Soft and moist is how I would describe this blueberry lemon pound cake. It has the wonderful combination of fresh blueberries and flavorful lemons. The use of low fat cream cheese and non-fat yogurt make this pound cake lower in fat  than a regular one.  Top up with a sweet lemon glaze and you have a wonderful treat to share with your family and friends. Enjoy a slice of this delicious cake with a cup of your favorite coffee or tea. Incredibly satisfying!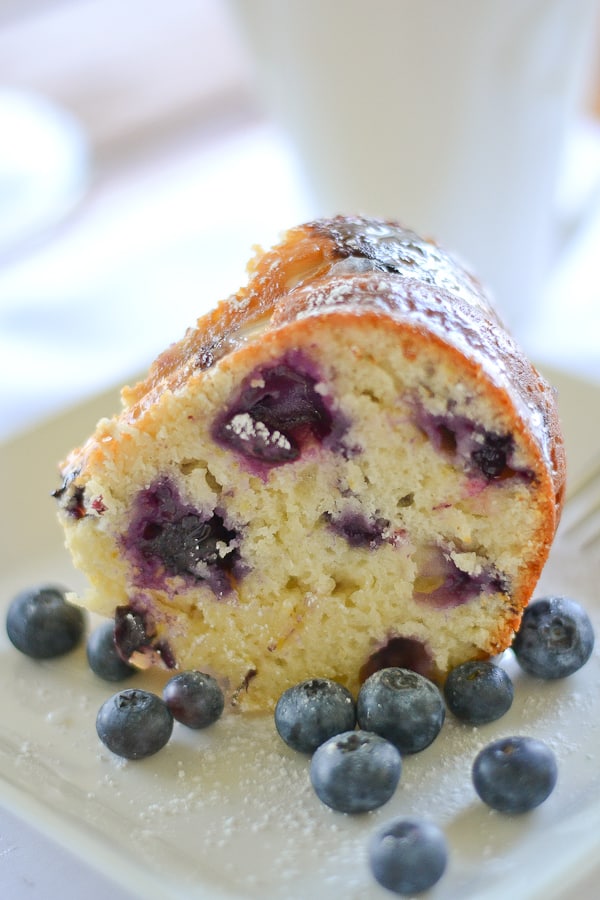 Blueberry Lemon Pound Cake
Ingredients
1 ¾ cups granulated sugar
½ cup butter, softened
½ cup low fat cream cheese, softened
3 large eggs
Zest of 1 lemon (about 1 tbsp)
¼ cup freshly squeezed lemon juice
2 tsp vanilla
3 cups all-purpose flour, divided
2 cups fresh or frozen blueberries
1 tsp baking powder
½ tsp baking soda
½ tsp salt
1 cup non-fat vanilla yogurt
Cooking spray
½ cup sifted powdered sugar
4 tsp lemon juice
Instructions
Preheat oven to 350 °F.
In a large bowl, beat the sugar, butter and cream cheese at medium speed with a mixer until well blended, about 4-5 minutes. Add the eggs one at a time, beating well after each addition. Beat in the vanilla, lemon juice and lemon zest.
In a smaller bowl, measure 3 cups of flour. Remove 2 tbsp and sprinkle over the blueberries, gently stirring and tossing to coat.
To the remaining flour in the bowl, add the baking powder, baking soda and salt; stir to combine. Add the flour mixture to the sugar mixture alternately with the yogurt, beginning and ending with the flour mixture, being careful not to over-mix. Gently, fold in the blueberries. Pour the batter into a Bundt pan coated with cooking spray. Sharply tap the pan once on the counter to remove air bubbles.
Bake for 1 hour to 1 hour and 15 minutes, or until a wooden pick inserted in the center comes out clean. (Mine is perfectly done after 1 hour and 5 minutes.) Let cool in pan on a wire rack for 20 minutes. Gently loosen cake from edge and center of pan; invert onto plate. Cool completely.
Combine the powdered sugar and lemon juice in a small bowl and whisk until smooth. Drizzle over the cake.
Cut with a serrated knife and serve. Enjoy!