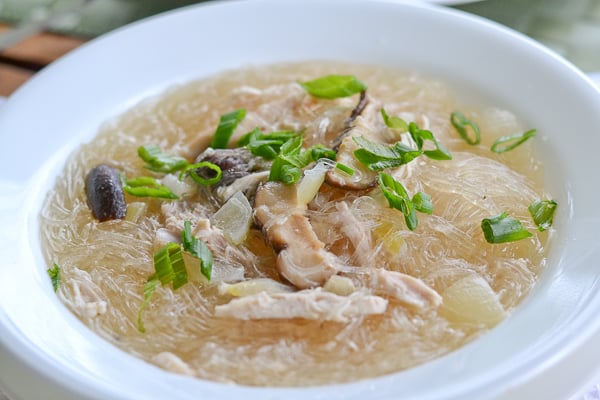 Every Saturday, I buy a whole rotisserie chicken for the family to have for lunch. My family always enjoys it and never tires of it. However, we always have a lot left over, and this chicken sotanghon soup recipe is a great way to use the leftover chicken. I have shared a lot of recipes which make use of left-over rotisserie chicken meat such as Filipino macaroni salad and Italian chicken salad. However, this dish is equally delicious with any type of cooked chicken meat. Practically, it is not too different from regular chicken noodle soup and just uses a different type of noodle.
The reason why I thought of making this dish was because it is reminiscent of one of my favorite dishes as a teenager growing up in the Philippines. My sisters and I would always go to this one particular restaurant where I would always have chicken sotanghon soup or spaghetti. So, I wanted to make this dish for myself to remind me of those times.
Ingredients Used
Vermicelli noodles – The thin and clear noodles are what sotanghon soup is known for.
Dried shiitake mushrooms – Adds a nice earthy flavor.
Chicken meat – I use leftover rotisserie chicken meat. However, you can use any cut of chicken.
Chicken broth – I use homemade chicken broth by boiling the rotisserie chicken bones with some onions and vegetables. However, you can use store-bought chicken stock instead.
Fish sauce – I use fish sauce to season the soup. However, you can use salt instead if you do not like fish sauce.
Garlic, onion, white pepper
Green onion – I use green onions to garnish my chicken sotanghon soup.
How to make Chicken Sotanghon Soup
First, hydrate the noodles in warm water, drain and set aside. Do the same with the dried shiitake mushrooms and set aside. After that, sautee the garlic and the onions in a large pot. Add the mushrooms and chicken into the pot and sautee for a bit. Then, add the white pepper, fish sauce and broth into the pot and bring to a boil. Add the noodles and cook until the noodles are soft. Finally, garnish with green onions and serve!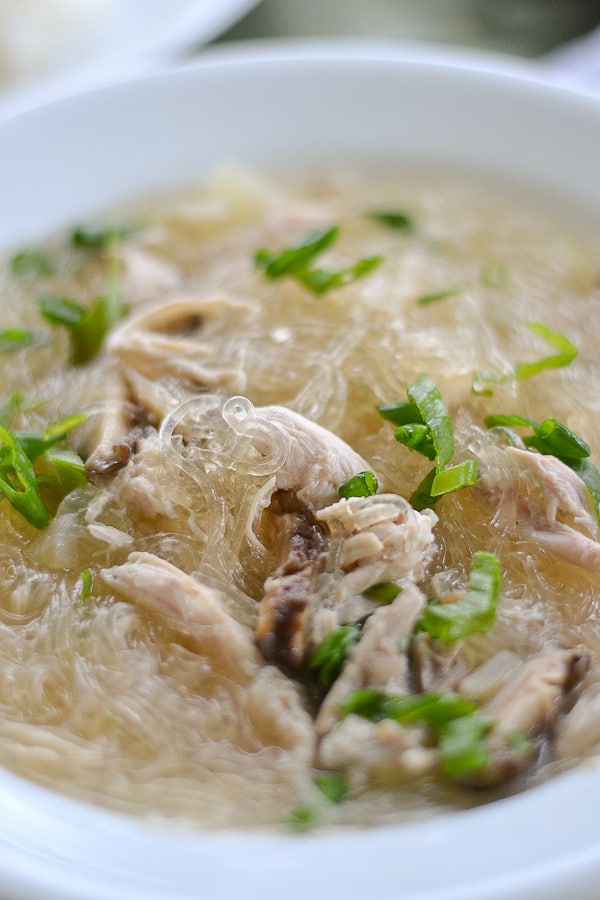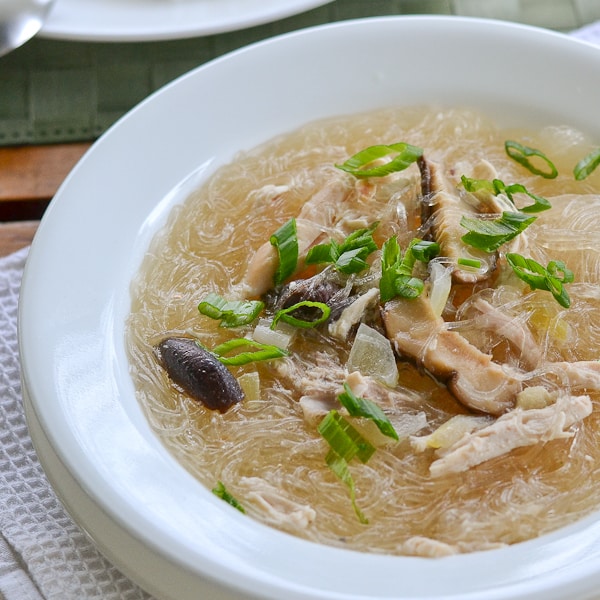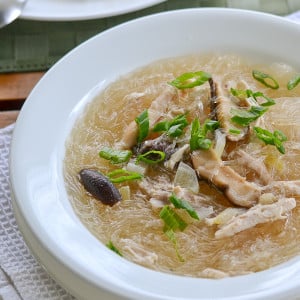 Chicken Sotanghon Soup (Filipino Style Chicken Bean Thread Noodle Soup)
Chicken sotanghon soup is a Filipino-style chicken bean thread noodle soup.
Ingredients
8

oz

vermicelli

(bean thread noodle)

6

dried shitake mushrooms

2

tbsp

olive oil

2

cloves

garlic

, minced

1

onion

, chopped

2

cups

shredded cooked chicken meat

( I used rotisserie chicken meat )

2

tbsp

fish sauce or 2 tsp salt

1/8

tsp

white pepper

8

cups

chicken broth

( I used homemade broth, see notes below for recipe )

Chopped green onions
Instructions
Soak bean thread noodles in warm water for 15 minutes, drain and set aside.

Soak shitake mushrooms in hot water for 20 minutes. Squeeze out the excess water. Discard the stems and thinly slice the caps. Set aside.

Heat a pot over medium heat. Add oil and sauté garlic until golden brown. Add onions and sauté for 2 minutes or until soft. Add mushrooms and chicken meat; sauté for 2-3 minutes.

Add fish sauce (or salt), white pepper and broth, bring to a boil. Add drained noodles and cook for 3 -5 minutes or until noodles are tender. Transfer to a soup bowl. Garnish with green onions and serve.
Notes
For homemade broth: In a pot, combine 10 cups water, rotisserie chicken bones, chopped onions, salt, ground pepper and dried parsley. Add any vegetables (carrot, celery) you like; I added Chinese or napa cabbage. Boil and let simmer for 30 minutes. Drain and use as broth.
Nutrition
Calories:
266
kcal
Carbohydrates:
36
g
Protein:
14
g
Fat:
7
g
Saturated Fat:
1
g
Cholesterol:
32
mg
Sodium:
1746
mg
Potassium:
506
mg
Fiber:
1
g
Sugar:
1
g
Vitamin A:
15
IU
Vitamin C:
24
mg
Calcium:
37
mg
Iron:
1
mg
Nutrition Facts
Chicken Sotanghon Soup (Filipino Style Chicken Bean Thread Noodle Soup)
Amount Per Serving
Calories 266
Calories from Fat 63
% Daily Value*
Fat 7g11%
Cholesterol 32mg11%
Sodium 1746mg76%
Potassium 506mg14%
Carbohydrates 36g12%
Protein 14g28%
Vitamin A 15IU0%
Vitamin C 24mg29%
Calcium 37mg4%
Iron 1mg6%
* Percent Daily Values are based on a 2000 calorie diet.