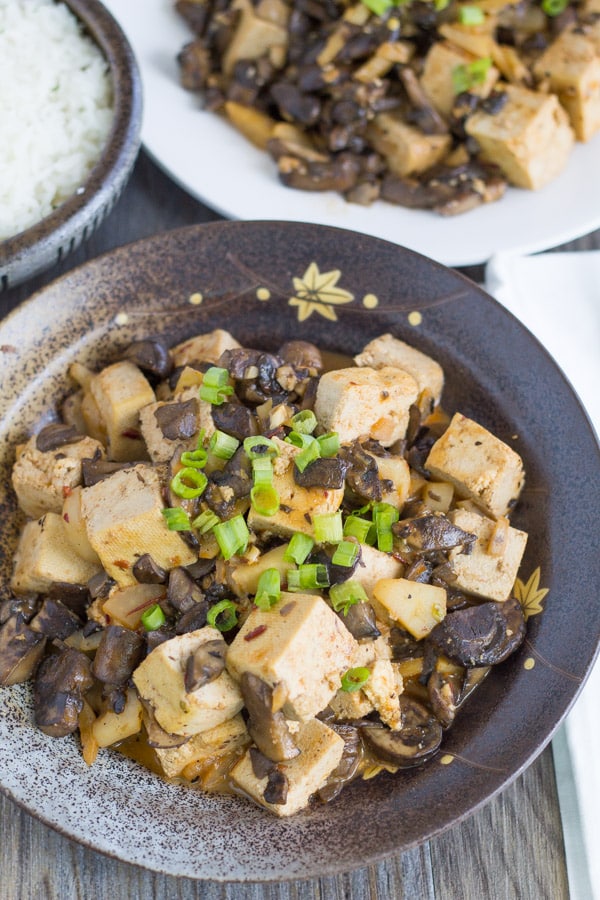 This Chinese braised tofu and mushrooms dish is healthy and vegan. It is simply composed of tofu, mushrooms and water chestnuts while the sauce is made of garlic, ginger, chili garlic sauce, vegetable broth, dry sherry, soy sauce and sugar. The addition of chili garlic sauce adds a little bit of heat while the water chestnuts add a nice crunch. What I like about this dish is that it's very easy to make, it's healthy and vegetarian and yet this dish is very flavorful. Usually I am not a big fan of tofu, but I found this dish flavorful enough that I actually quite enjoyed eating the tofu. Enjoy!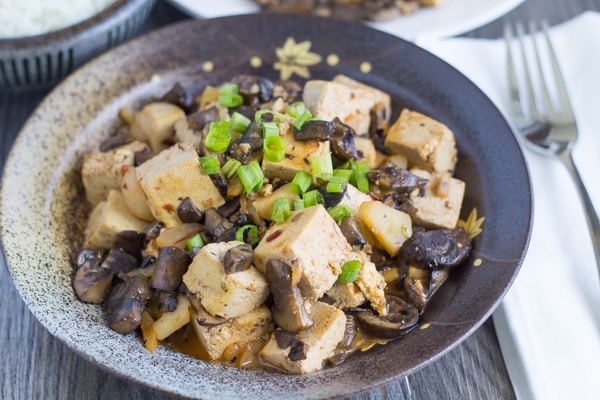 Chinese Braised Tofu and Mushrooms
Ingredients
1 tbsp canola oil
4 cloves garlic, minced
2 tsp minced fresh ginger
14 oz. (400 g) cremini mushrooms, chopped
1 tbsp chil garlic sauce
1¼ cups mushroom or vegetable broth
2 tbsp dry sherry
2 tbsp reduced-sodium soy sauce
2 tsp brown sugar
1 14-ounce package firm tofu, cut into ½-inch cubes
1 8-ounce can water chestnuts, rinsed and coarsely chopped
1 tbsp water
1½ tsp cornstarch
Instructions
Heat the oil in a large saucepan over medium-high heat. Add the garlic and ginger and cook for about 30 seconds. Add chopped mushrooms and chili garlic sauce. Cook and stir until the liquid from the mushroom has mostly evaporated, about 4-6 minutes.
Add broth, dry sherry, soy sauce, brown sugar, tofu and water chestnuts. Bring to a simmer. Cook in a simmer for 10 minutes more.
Combine 1 tbsp of water with 1 ½ tsp of cornstarch and stir well. Add the cornstarch mixture to the saucepan and simmer again to thicken the sauce, about 1-2 minutes.