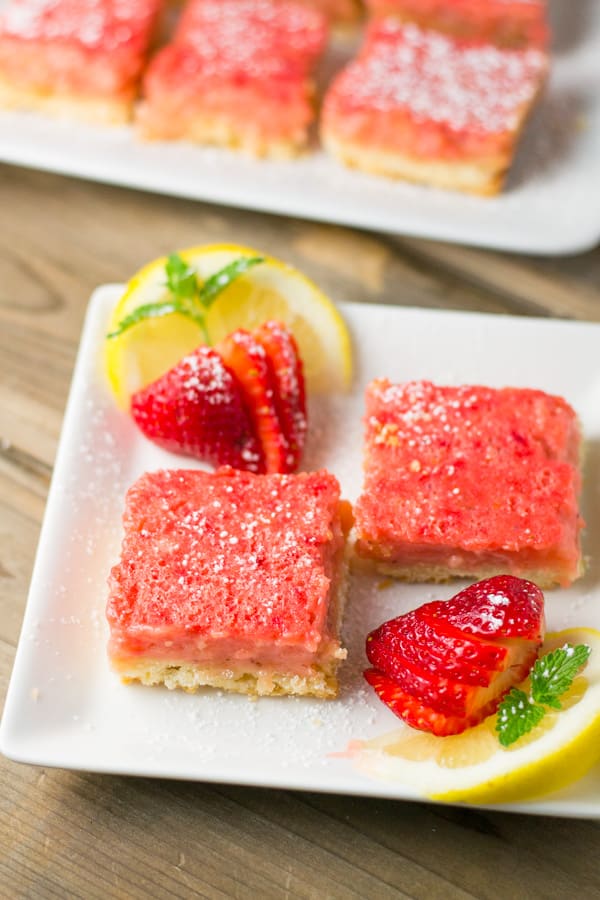 Strawberries are in season and my family and I have been enjoying these nutritious berries as much as we can. We like to eat fresh strawberries as is, in smoothies, in salads and even in baked goods. Some of the baked goods that I had shared and became popular are strawberry cream cheese cobbler and strawberry white chocolate chip cake. This recipe of strawberry lemonade bars is another recipe that I know everyone will be love. It combines this wonderful berry with lemon juice and zest, creating a sweet and tangy dessert that is delightfully refreshing. These bars are treats that my family and co-workers enjoyed. I hope you do too!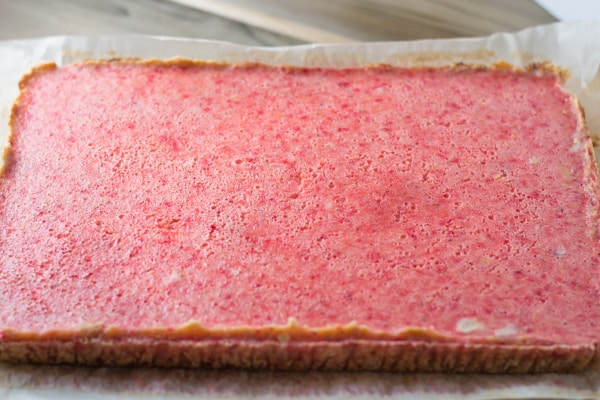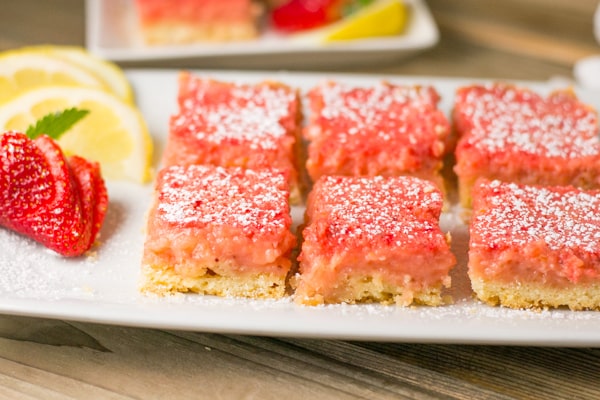 Strawberry Lemonade Bars
Ingredients
1¾ cup flour
¼ cup cornstarch
⅔ cup powdered sugar (icing sugar or confectioner's sugar)
½ tbsp salt
2 sticks ( 1 cup) cold butter, cut into small cubes
Non-stick spray
4 eggs, beaten
1 cup sugar
3 tbsp flour
1½ cup strawberries, hulled and sliced
2 tbsp lemon zest
⅔ cup lemon juice
⅓ cup milk
1 tbsp powdered sugar, for dusting
Instructions
Line a 9x13 inch baking dish with parchment paper and coat the paper with a non-stick spray. Set aside.
In a large bowl, combine flour, cornstarch, powdered sugar, salt and cubed butter. Using a pastry blender or a fork, mash butter into the dry ingredients until it is fully incorporated.
Pour the mixture into the prepared pan and pack it down firmly, allowing for some to come about ½ inch up the sides of the pan. Refrigerate the crust for 30 minutes and then bake at 350 degree F preheated oven for 30 minutes or until it develops a light golden brown color.
Allow the crust to cool while you prepare the filling. Reduce the oven temperature to 325 degree F.
In another large bowl, combine the eggs, sugar, and flour. In a blender, blend strawberries, lemon zest, lemon juice, and milk until well combined.
Pour the blended mixture into the egg mixture and stir well. Pour the filling over the partially baked crust and bake for 45 minutes, or until set. Baking time may vary depending on the oven.
Allow to cool for 30-45 minutes and remove from pan. Cut into 24 even squares and sprinkle with powdered sugar.