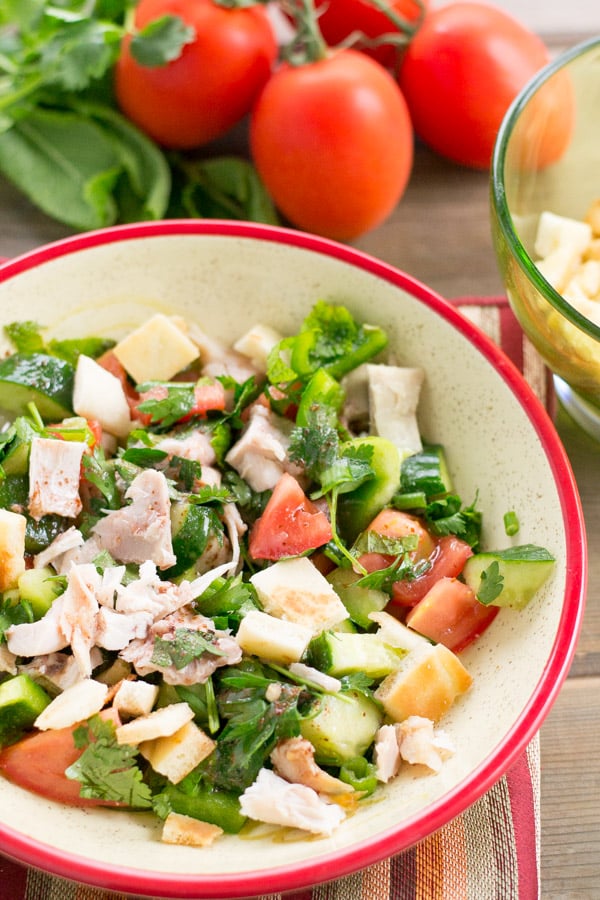 It seems like summer came early this year. We are experiencing really nice and warm weather here in Vancouver. We are having lots of ice cream and iced drinks to cool us down. At work, I have been having salads at lunch for a week now. One of the salads I had last week was this delicious chicken fattoush salad from Jocooks.  I have made many chicken salads before and for most of them, I normally use rotisserie chicken meat. I find it not only very tasty but convenient to use as well. In this chicken fattoush salad recipe, the sliced vegetables and herbs were dressed with a simple dressing of olive oil, lemon juice and sumac. Crispy pieces of bread may be added to give the salad a crunchy taste and texture.
One challenge that I encountered in making this salad was finding where to buy sumac. I was not able to find sumac at the spice sections of the groceries and supermarkets I frequented. So I phoned around and was able to buy it from a local Middle Eastern grocery. It was worth the trouble- the sumac in the fattoush salad gave it a tangy and refreshing flavor.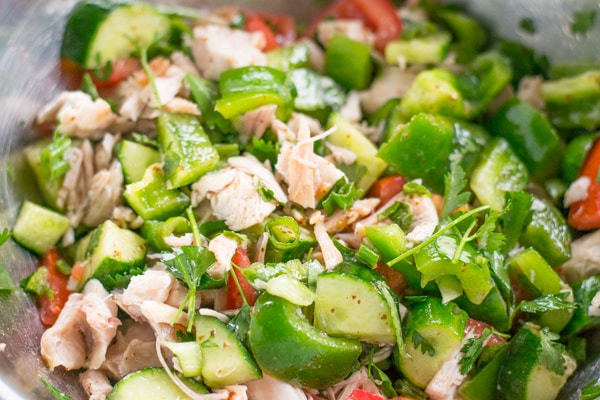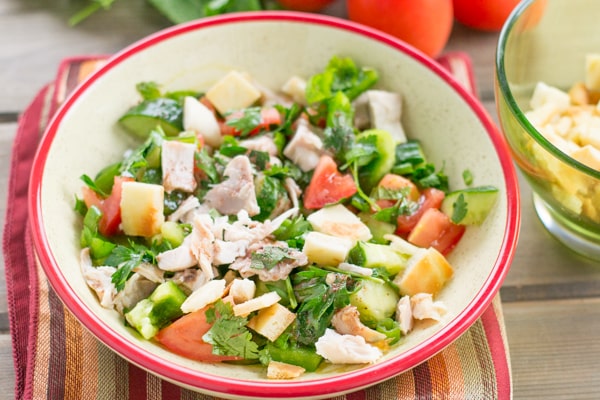 Chicken Fattoush Salad
Ingredients
1 English cucumber
1 green bell pepper
3 medium tomatoes
⅓ chopped green onions
⅓ cup of chopped cilantro
⅓ cup of chopped parsley
1 tbsp finely chopped mint
¼ cup olive oil
¼ cup lemon juice
1 tbsp ground sumac
2 cups chopped rotisserie chicken meat
Salt and pepper to taste
1 naan bread (optional)
Olive oil (optional)
Instructions
Optional: Carefully separate naan bread into 2 pieces and then cut into 1-inch pieces. Spread in single layer on the baking pan of a toaster oven. Drizzle with olive oil and bake in the toaster oven (350 degree F) for 10 minutes or until brown and crispy.
Slice the cucumber, green pepper and tomatoes into cubes of desired size (I sliced them into 1-inch cubes).
Place the sliced vegetables in a large bowl. Add the green onions, cilantro, parsley and the finely chopped mint.
In another large bowl, whisk together the olive oil, lemon juice and sumac. Season with salt and pepper to taste. Add the chicken and vegetable mixture and toss to combine.
Before serving, add the crispy naan bread cubes to the salad, if using.
Enjoy!