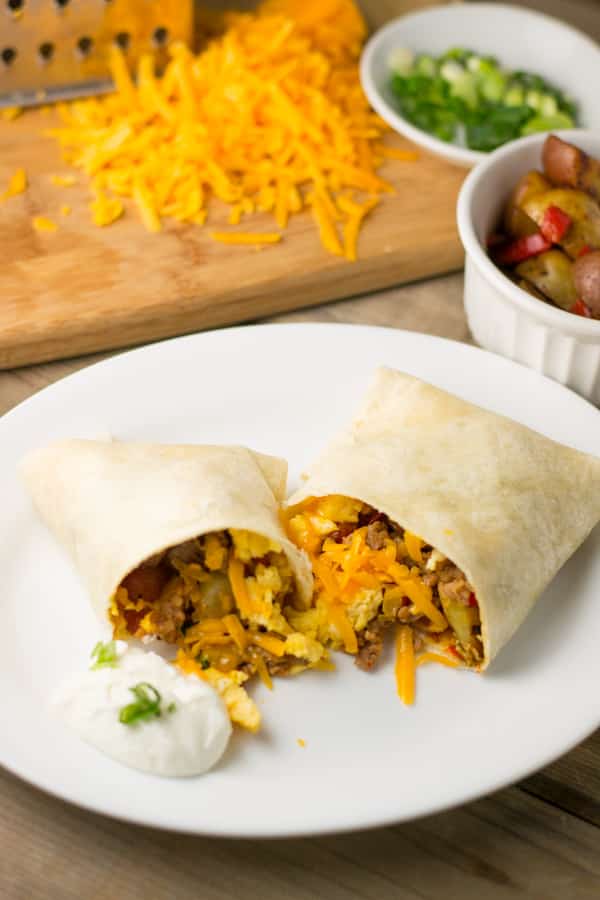 Breakfast burritos are our family's go-to food for breakfast, so I decided to make my own at home. I made these breakfast burritos with the intention of freezing them and having them available to eat throughout the week. However, that never happened because my family devoured it so fast!
These burritos are made of scrambled eggs, bacon, Italian sausage, potatoes and red bell peppers. They are topped with shredded cheese. The great thing about this dish is that you can use any topping you like and the possibilities are endless. These hearty and filling burritos are good when eaten with some salsa. Enjoy!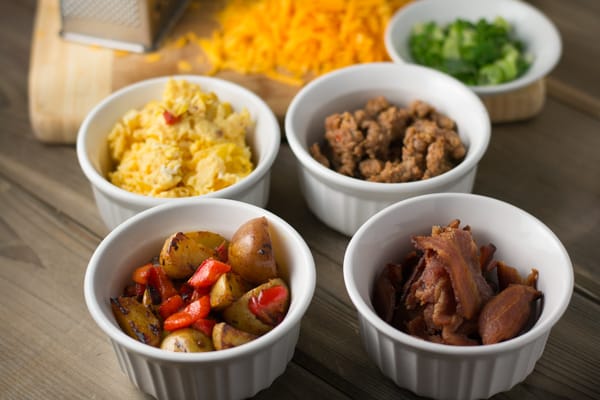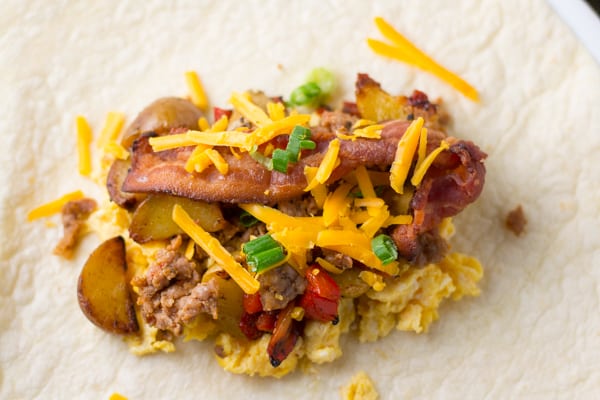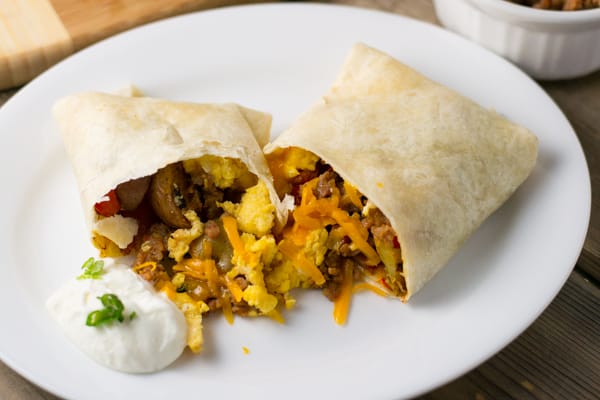 Breakfast Burritos
Ingredients
1 package bacon
3 Italian sausages
1 lb baby potatoes, halved or quartered depending on the size
1 red bell pepper, chopped
1 onion, chopped
Salt and pepper to taste
10 Eggs, beaten
Shredded cheese
10 Flour tortillas
Sour cream
chopped green onions
Instructions
In a large skillet over medium heat, cook bacon, in batches, until brown and crispy. Remove from skillet but leave about 2 tablespoons of bacon oil on the skillet. Drain the bacon on paper towels.
Add potatoes into the skillet and season with salt and pepper. Once lightly browned, stir in peppers and onion. Cook until potatoes have browned and the peppers and onions have softened. Remove from pan and place in bowl to cool.
Using the same skillet, cook sausage until browned and cooked through. Remove to a paper towel lined bowl.
Using a different skillet, cook eggs until cooked but still soft and moist. Remove from pan.
Assemble the burritos: Lay out a tortilla on a plate. Start with a generous spoonful of scrambled eggs, followed by desired toppings and finishing up with cheese. To wrap, fold in both sides and then fold the bottom up and over the ingredients. Roll up tightly.
Serve with sour cream and sliced green onions.