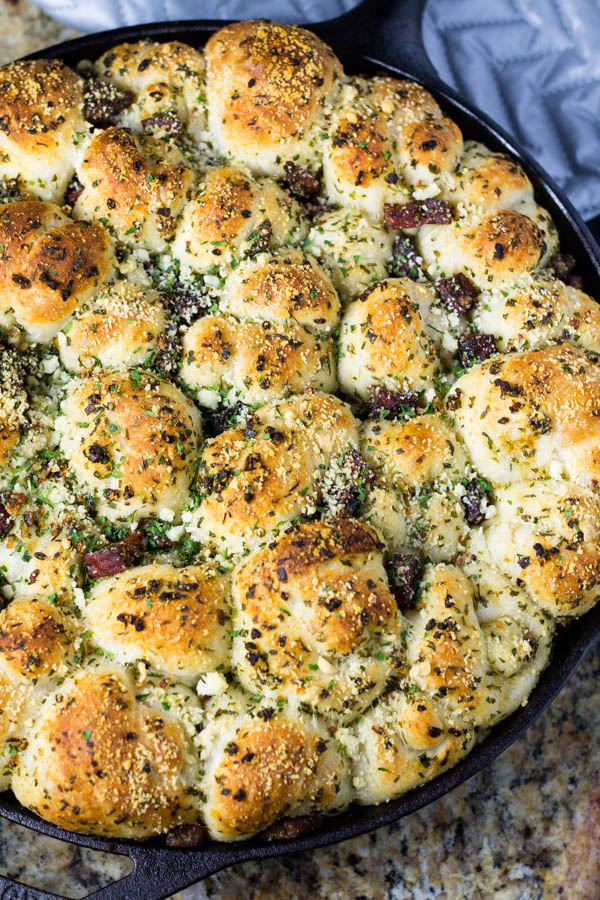 These skillet pull apart garlic knots are a definite crowd-pleaser. There is something about the combination of garlic, Parmesan cheese, Pecorino Romano cheese, chives and parsley with the warm and soft bread that simply cannot be resisted. They can be dipped in your favorite pizza dipping sauce (my personal favorite is marinara), or enjoyed on its own.
I decided to make my own bread, but for convenience it is possible to use store bought pizza dough.  To make the topping, I cut the pepperoni into small cubes. I found that cutting the pepperoni into as small-as-possible cubes was better so that they can stick to the bread easier.  The pepperoni is cooked with the garlic and some red pepper flakes for a little bit of heat. Chives and parsley are added for flavor and color. Finally, the Parmesan cheese is added. All that was left was to toss the garlic knots in this super-flavorful mixture.
After baking the knots in the oven, I had crispy golden brown knots that are crunchy on the outside and soft in the inside. Each and every bite had a punch of garlicy Parmesan cheese flavor. I will definitely be making this again in the future!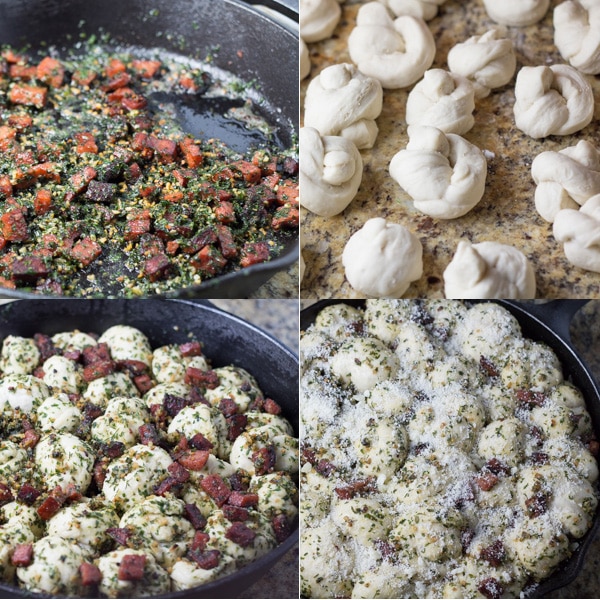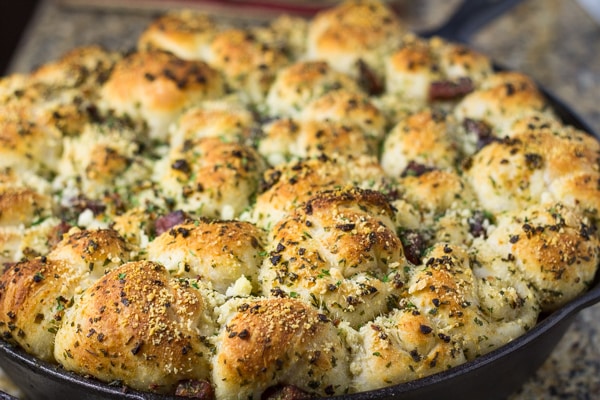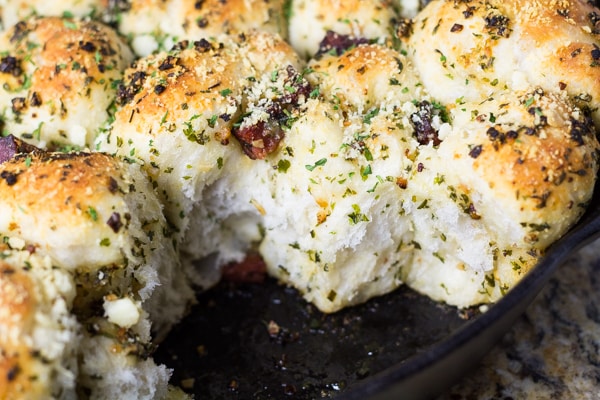 Skillet Pull Apart Garlic Knots
Ingredients
Bread Dough:
2¾ - 3 cups all-purpose flour
2¼ tsp. active dry or instant yeast
1 tsp. salt
1 cup milk, lukewarm
2 Tbsp. vegetable oil
Topping:
2 tablespoons unsalted butter
2 tablespoons extra-virgin olive oil, plus more for drizzling
4 ounces pepperoni, cut into very small cubes (smaller the better)
Pinch red pepper flakes
6 medium cloves garlic, minced (about 2 tablespoons)
¼ cup chopped fresh or dehydrated parsley
2 tablespoons minced fresh chives
½ cup grated Parmesan cheese
¼ cup grated Pecorino Romano cheese
Special Equipment
10 or 12 inch cast iron skillet
Instructions
Preparing the dough
Add yeast to lukewarm milk and let sit for 10 minutes.
Add 2 cups of flour to a large bowl. Add salt. Stir in yeast mixture along with vegetable oil. Add and mix an additional ¼ cup of flour. Knead until smooth.
Transfer to an oiled bowl and cover with plastic wrap. Let rise until doubled (about 1 hour).
Preparing the topping
Heat the oil and butter in a 10 or 12 inch cast iron skillet over medium heat. Add the pepperoni cubes and cook until the pepperoni begins to brown, about 1 minutes. Add the pinch of red pepper flakes and garlic and stir for about 1 minute. Add the parsley and chives and cook for another 30 seconds.
Transfer the mixture into a large bowl and stir in ½ cup of Parmesan cheese. Do not wipe the skillet clean.
Putting them together
On a lightly floured surface, divide dough into two even pieces. Working with one half at a time, roll or stretch into an oblong. With a knife or pizza cutter, cut crosswise into 16 strips. Repeat with other half of dough.
Tie each of the 32 strips into a knot. (see picture)
If your pepperoni/parmesan/garlic mixture is looking a little bit dry at this point, drizzle some olive oil on top of the mixture. Transfer the 32 knots into the large bowl with the pepperoni/parmesan/garlic mixture. Toss to generously coat each of the knots with the mixture.
Transfer the coated knots into the skillet in a single layer. Sprinkle any extra bits of the pepperoni/parmesan/garlic mixture you may have left over. If you're using a 12-inch skillet and you have gaps between the knots, make sure to minimize the gaps by spreading the knots out evenly. They should puff up a little bit more in the next step.
Cover the skillet with plastic wrap and let the knots rise until puffy, about 30 minutes.
Preheat the oven to 400°F. Remove the plastic wrap from the garlic knots and evenly sprinkle the Pecorino Romano cheese on top.
Bake until golden brown and crisp, about 25 minutes.
Serve with marinara sauce or your favorite pizza-crust dip.
Notes
You can use store bought pizza dough if you don't want to make your own. If you decide to use your own store bought pizza dough, skip the "Preparing the dough" steps.
Recipe adapted from
Serious Eats