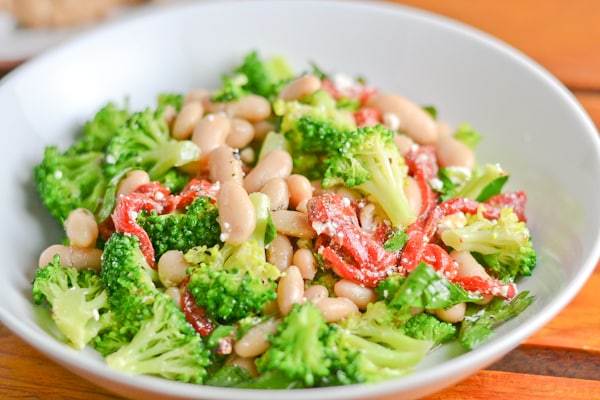 This broccoli salad with cannellini beans and roasted red pepper is one of the many salads that my family have tried over the summer. It is one of our favorites because it consists of ingredients that are full of nutrients and health benefits. Although I deviate from the original recipe by doubling the amounts of vegetables and beans, the result is still good and delicious. This healthy salad is simply dressed with a mixture of extra virgin oil, oregano, garlic, parsley and feta cheese. It is satisfyingly good on its own or with any kind of meat. Enjoy!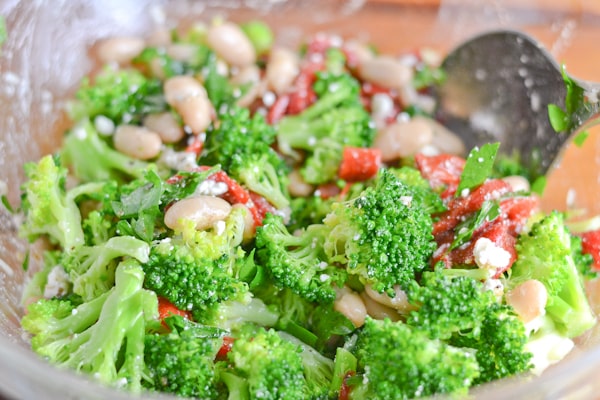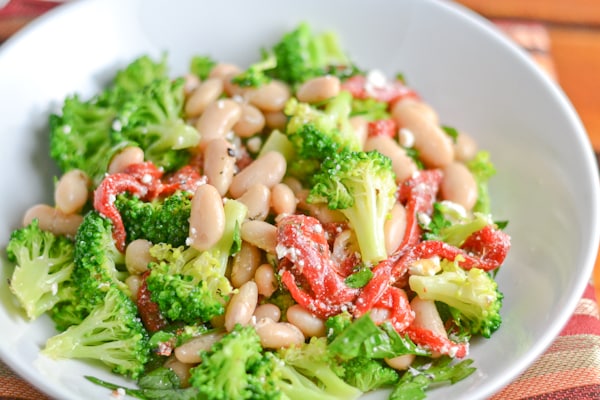 Broccoli with Bean and Red Pepper Salad
Ingredients
4 cups broccoli florets (one large head)
4 tbsp extra-virgin olive oil
2 tsp lemon juice
1 tsp dried oregano
1 small clove garlic, finely grated or pressed
Pinch each of salt and pepper
1 (398ml/14 fl oz) can cannellini beans, drained and rinsed
3 jarred roasted red peppers, drained and thinly sliced
⅓ cup chopped fresh flat-leaf parsley
¼ cup crumbled feta cheese
Instructions
In a large saucepan of boiling salted water, cook broccoli until crisp tender, about a minute. Drain well and set aside.
In a large bowl, whisk together oil, lemon juice, oregano and garlic. Season with salt and pepper. Add beans, red peppers, parsley and feta; toss to coat. Let stand for 10 minutes. Stir in broccoli.
Serve and enjoy!
Notes
Recipe adapted: Sept 2015 issue of Canadian Living Magazine.