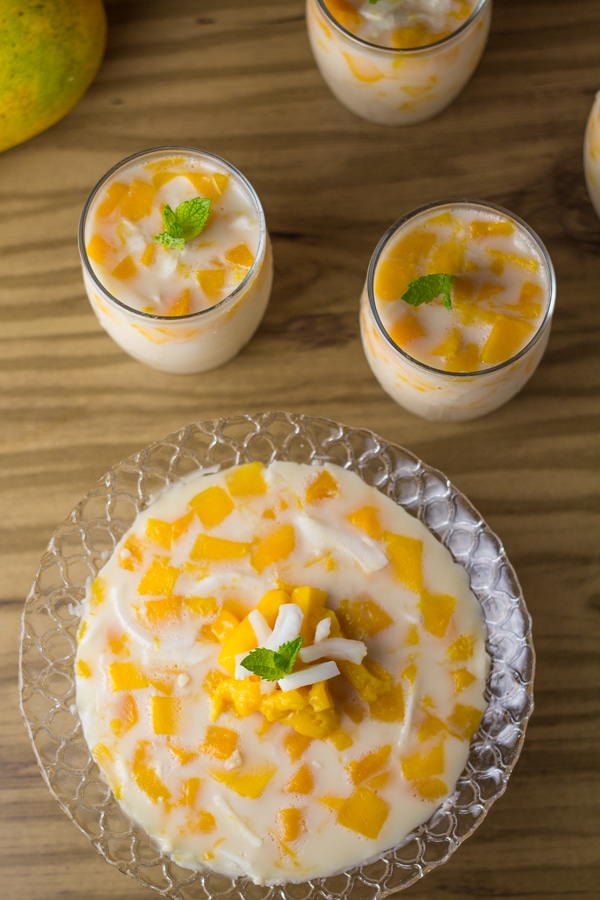 Mango is one of my favorite fruits so I try to buy this delightful fruit whenever they are abundant. My maternal grandmother used to have several mango trees in her hometown and growing up, we always got supplies of mangoes when they were in season. Aside from eating as is, my family loves mango in puddings and in cakes. Several ones that I have made and shared were mango float, mango sago, mango pudding and mango and peach pound cake.
This coco-mango royale recipe is another way to use fresh ripe mangoes. This recipe is simple and easy to prepare. The diced mangoes are combined with shredded young coconut meat and simply flavored with sweetened condensed milk.  They are bind together by a mixture of coconut milk, gelatin powder, evaporated milk and white sugar. The result is a delightful dessert that tastes great and not too sweet. It is definitely a crowd pleaser to any gatherings or get-togethers!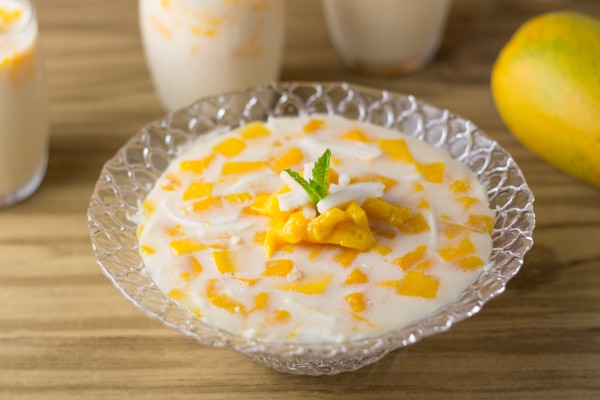 INGREDIENTS:
Mango – adds sweetness and a soft texture to this dessert recipe.
Shredded young coconut – its firm meat complements the soft texture of the mango
Sweetened condensed milk – is used to bind the mango and coconut meat together, and makes the mixture sweet, rich and creamy.
Coconut water – the liquid that is used to dissolve the gelatine powder.
Unflavored gelatin powder – provides structure to this recipe.
Evaporated milk – gives body and adds richness to the gelatine mixture.
White sugar – adds sweetness to the gelatine mixture.
Optional: whipped cream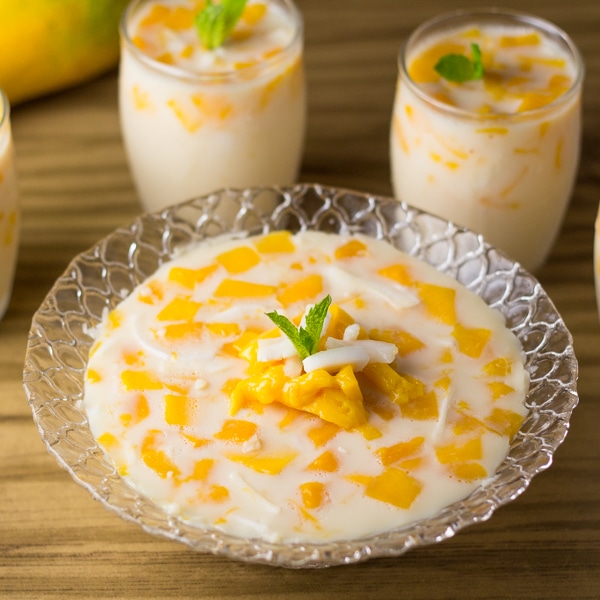 HOW TO MAKE COCO-MANGO ROYALE:
To make this coco-mango royale recipe, first dice the mango and slice the shredded coconut meat into smaller pieces. Place them together in a big bowl and then stir in the condensed milk into it. Set this aside while preparing for the gelatine mixture. In a saucepan, dissolve the gelatine powder in coconut water and then add the evaporated milk and sugar. Simmer until the sugar has dissolved. Pour this gelatine mixture over the coconut-mango mixture. Let it cool and then place in the fridge to set.
TIPS:
Although fresh mangoes are used in this recipe, frozen ones may be used especially when they are not in season.
Just like other desserts that contain gelatine, this coco-mango dessert needs to be chilled to set.
Although this dessert can be stored in the fridge up to 3 days, it is best to consume them after it has been set.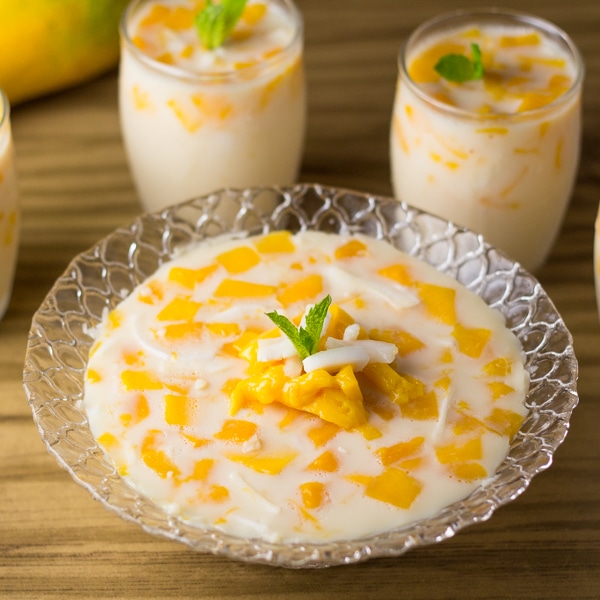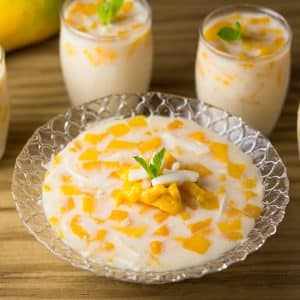 Coco-Mango Royale
Coco Mango Royale is a gelatin dessert made of diced mangoes and shredded young coconut. It's simply flavored with evaporated milk, coconut milk and condensed milk.
Ingredients
3

pieces

medium-sized ripe mangoes

½

cup

frozen shredded young coconut

thawed

¼

cup

sweetened condensed milk

1 ½

cups

coconut water

2

7g packs unflavored gelatin powder

½

cup

evaporated milk

¼

cup

white sugar

Whipped cream

optional
Instructions
Dice the mangoes and slice the shredded young coconut into 1-inch pieces. Place them in a large bowl. Add the sweetened condensed milk and mix. Set aside.

Heat the coconut water in a saucepan over medium high heat. Add the gelatin powder and stir until gelatin powder has dissolved. Add the evaporated milk and sugar. Let simmer while stirring until sugar has completely dissolved. Pour this mixture over the mango mixture. Mix lightly.

Transfer combined mixture into a suitable container. Let it cool and then refrigerate until set.

Serve with whipped cream, if using.
Nutrition
Calories:
209
kcal
Carbohydrates:
34
g
Protein:
4
g
Fat:
8
g
Saturated Fat:
6
g
Polyunsaturated Fat:
0.2
g
Monounsaturated Fat:
1
g
Cholesterol:
11
mg
Sodium:
105
mg
Potassium:
439
mg
Fiber:
3
g
Sugar:
31
g
Vitamin A:
978
IU
Vitamin C:
32
mg
Calcium:
117
mg
Iron:
1
mg