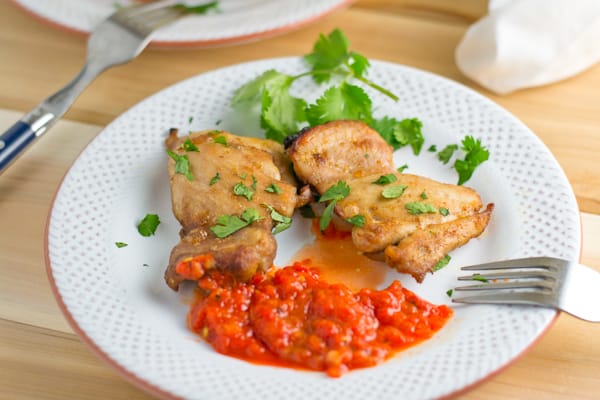 Wow! This chicken dish is not only delicious but easy to make as well. Dinner was ready in less than half an hour. The chicken thighs were first coated in a spice mixture of cumin, chipotle chili powder and cinnamon and then broiled in the oven for 10 minutes. The combination of the spices emitted this incredible aroma while the chicken was being cooked in the oven. The chipotle sauce that was served with the chicken is the star of this dish. It made the chicken taste even better. The sauce consisted of pureed roasted red bell peppers, cumin, chipotle chili, olive oil, garlic and salt. It was so refreshingly good, I saved the left-overs and served it with the fried fish I made the next day. Hope you enjoy this chicken dish as much as my family and I did.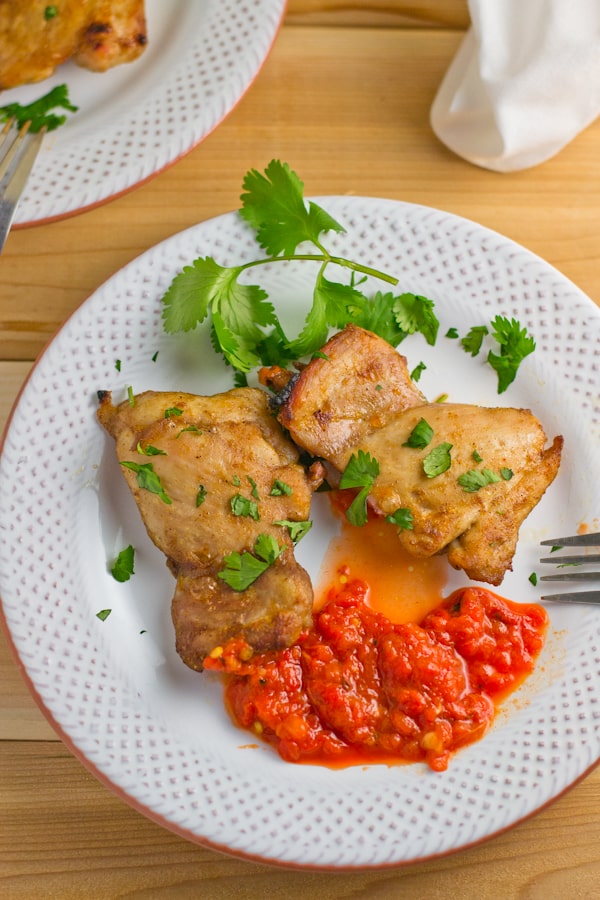 Broiled Chicken Thighs with Chipotle Sauce
Ingredients
1-1/2 tsp ground cumin
1 tsp packed light brown sugar
¾ tsp ground chipotle chili
¼ tsp ground cinnamon
Kosher salt
8 boneless, skinless chicken thighs, trimmed
3 tbsp olive oil
1 medium clove garlic
1 large or 2 small jarred roasted red peppers, drained
1 tbsp coarsely chopped fresh cilantro
Instructions
Position a rack about 6 inches from the broiler and heat the broiler on high.
In a small bowl, combine 1 teaspoon of the cumin, the sugar, ¼ teaspoon of the chipotle, the cinnamon, and 1 teaspoon salt.
In a medium bowl, toss the chicken with 1 tablespoon oil, and then toss with the spice mixture.
Arrange the chicken on a rack set over a rimmed baking sheet lined with foil and broil until the chicken browns lightly on top, about 5 minutes. Flip the chicken and continue to broil until browned and cooked through, about 5 minutes more.
Meanwhile, coarsely chop the garlic and sprinkle it with ¼ teaspoon salt. Using the flat side of a chef's knife, smear and mash the garlic and salt together to form a coarse paste. Transfer the garlic paste to a food processor and add the roasted red pepper, the remaining 2 tablespoons oil, the remaining ½ teaspoon each of cumin and chipotle, and ½ teaspoon salt. Purée into a smooth sauce.
Garnish the chicken with the cilantro and serve with the sauce.