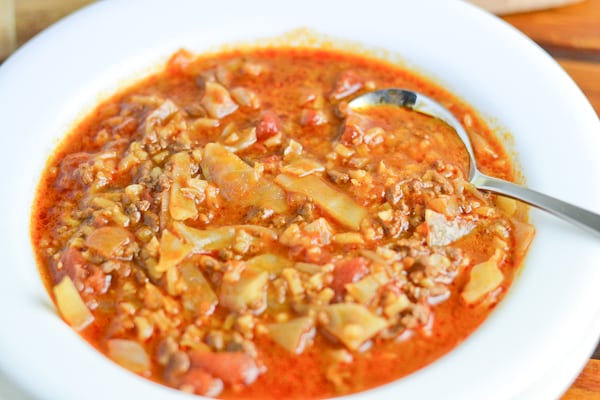 If you like cabbage rolls then you will definitely love this soup version of the amazing dish. My co-worker shared this recipe on Facebook and it caught my attention because of how easy it is to make. It eliminates the steps of filling in and rolling up cabbage leaves. In this recipe, all the ingredients are put together in a pot and simmered for 30 minutes. The result was a pot of cabbage, ground beef, rice, tomatoes and seasonings all mixed together. My family and I are hooked. I am glad I found this recipe because I have tried making cabbage rolls once in the past but did not get the results I expected. This soup recipe allows me to enjoy the flavor and taste of cabbage rolls in a simple and easy way. Make sure to make a big pot of this hearty and comforting soup because it tastes better the next day. Enjoy!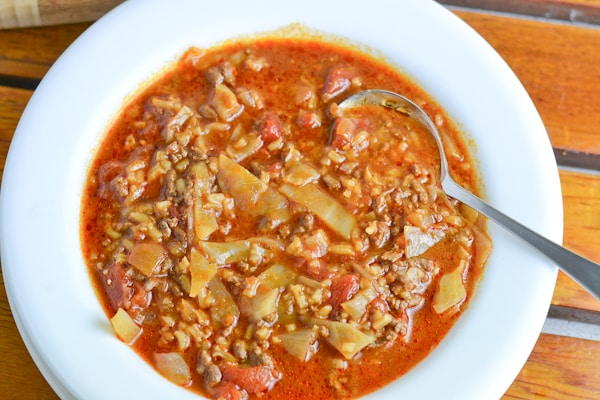 Cabbage Roll Soup
Ingredients
2 tbsp olive oil
1 large onion, chopped
3 cloves garlic, minced or grated
1 lb lean ground beef
¾ cup uncooked long grain rice
½ cabbage, core removed and chopped
1 (28 ounce) can diced tomatoes
2 tbsp tomato paste
4 cups beef broth
1½ cups V8 or other vegetable juice
1 tsp paprika
1 tsp thyme
2 tbsp Worcestershire sauce
1 bay leaf
Salt and pepper, to taste
Instructions
Heat oil in a large pot over medium high heat. Add onion and garlic and cook until onion is tender. Add beef and cook until browned. Drain any fat.
Stir in chopped cabbage and cook until slightly softened, about 3 minutes.
Add all remaining ingredients, bring to a boil and reduce heat to medium low. Cover and simmer on low until rice is fully cooked, about 30-45 minutes.
Remove bay leaf and serve.