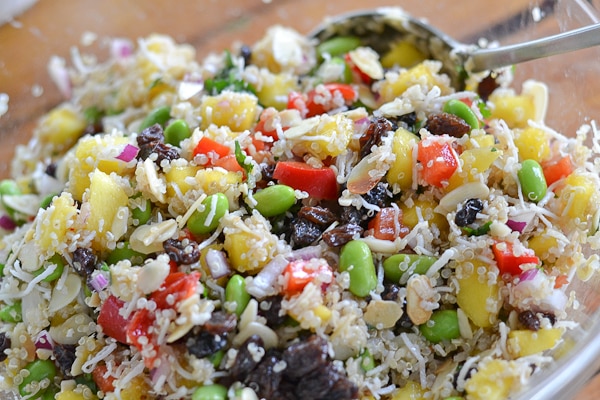 My son who lives in Calgary made this quinoa salad over the weekend. He got the recipe from his friend and co-worker's blog, Jocooks. We were talking over the phone when he was telling me how good it was. I looked up the recipe and I was hooked just looking at the pictures and list of ingredients. Luckily, I had all the ingredients at home so I was able to make it for lunch. This California quinoa salad was not only colorful and pretty to look at but also delicious. It was bursting with flavors and contrasting textures. Eating this salad was totally guilt free because of the multiple health benefits of quinoa. It was refreshing and healthy. Love it!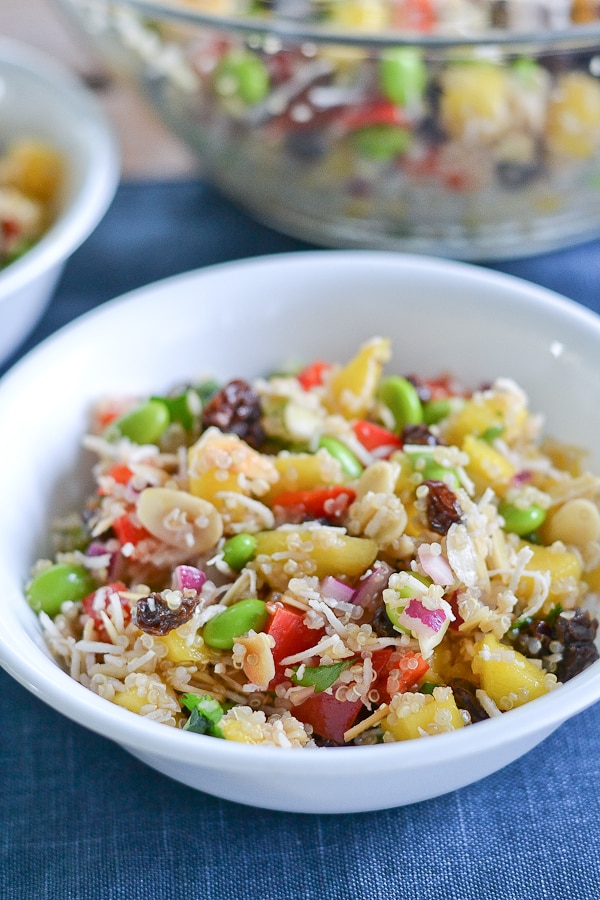 California Quinoa Salad
Ingredients
½ cup dry quinoa
1 cup water, to cook quinoa
1 large mango, peeled, pitted and diced
¼ small red onion, diced
½ red bell pepper, diced
¾ cup unsweetened shredded coconut
¾ cup almond slices or slivers, toasted if preferred
1 cup raisins
1 cup frozen shelled edamame, thawed
¼ cup chopped cilantro or parsley
Dressing:
Juice from 2 limes
2 tbsp balsamic vinegar
1 tbsp honey
1 tbsp olive oil
Salt and pepper to taste
Instructions
Bring the quinoa and water to a boil in a medium saucepan. Cover, reduce to a simmer and cook for 10 minutes. Turn the heat off and leave the covered saucepan on the burner for another 4 minutes. Remove the lid and fluff the cooked quinoa with a fork. Set aside to completely cool.
Whisk all the dressing ingredients together in a small bowl.
In a large bowl toss all the salad ingredients together including the cooled quinoa and add the dressing. Toss it well and serve cold.