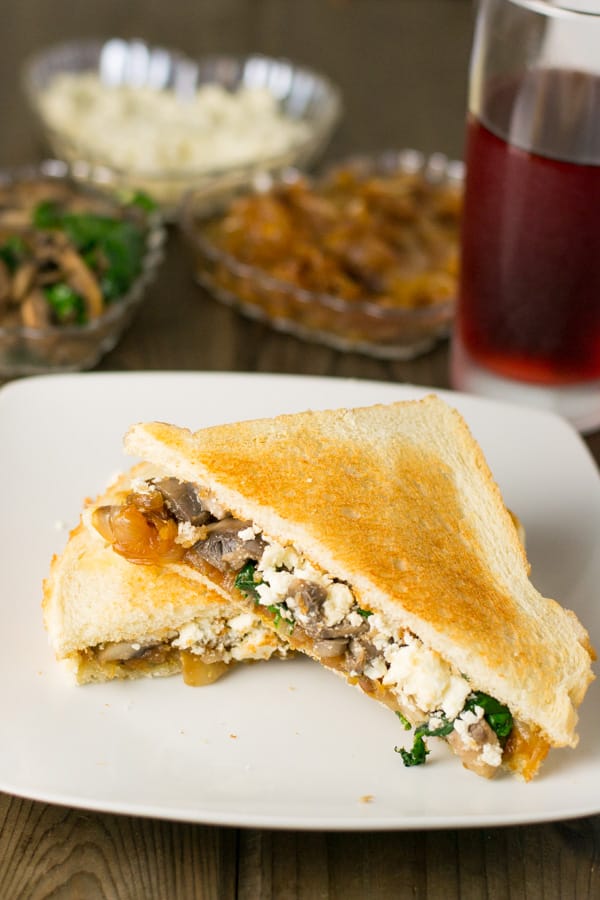 For my birthday this year, I had brunch at a local Dutch restaurant with my husband and my youngest son. My husband and I ordered their famous pancake while my son had this delicious sandwich which consisted of caramelized onion, sauteed mushroom, spinach and feta cheese. The toasted sandwich looks appetizing and tasted great too. I was able to taste it and I was hooked. My son and I loved the sandwich so much, we decided to recreate it at home. We started by sauteing and caramelizing the onions first, which took us around 17 minutes. Next we sauteed the mushrooms together with the spinach.  After toasting two slices of bread, we assembled the sandwich by starting with the caramelized onions at the bottom followed by the sauteed mushrooms and spinach and then finished off with a sprinkle of crumbled feta cheese. The caramelized onion, mushroom and spinach sandwich was crunchy, savory and really good. Enjoy!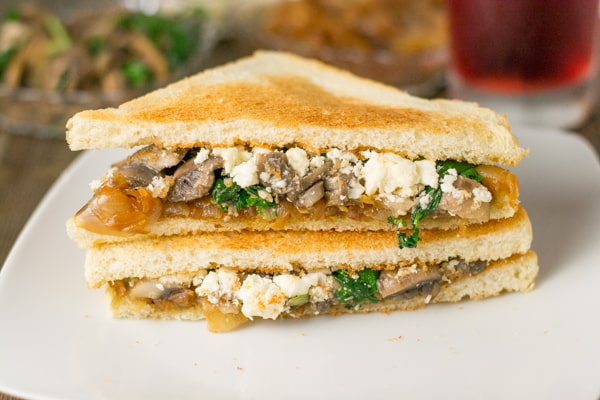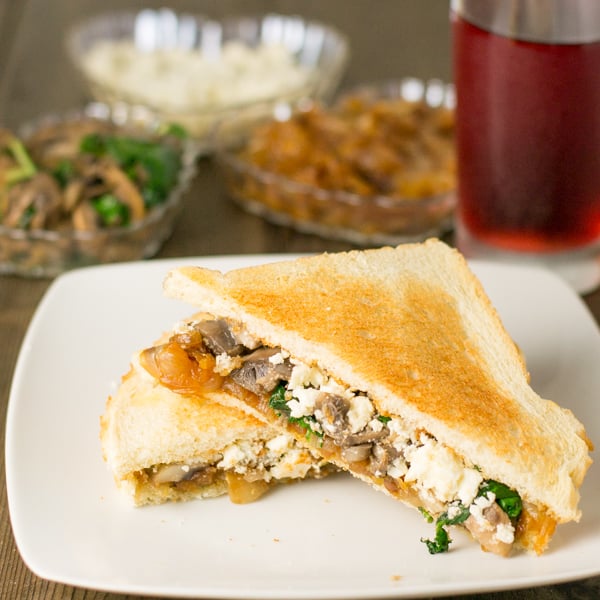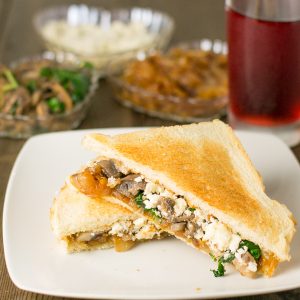 Caramelized Onion, Mushroom and Spinach Sandwich
Ingredients
2

tbsp

unsalted butter

2

tbsp

olive oil

2

large onions

thinly sliced

Salt and pepper

to taste

8

oz

(3 cups) sliced button mushrooms

4

cups

baby spinach

¼

cup

crumbled feta cheese

8

slices

of your favorite bread
Instructions
In a large frying pan, heat 1 tablespoon butter and 1 tablespoon oil over medium heat. Add onions and stir to coat with the butter and oil mixture. Spread the onions out evenly over the pan and let onions cook slowly, stirring occasionally, for 10 minutes. Turn heat up to medium high and begin to brown the onions, stirring constantly about 7 more minutes. Season with salt and pepper. Transfer caramelized onions onto a plate and set aside.

In another pan, heat the remaining butter and oil over medium-high heat. Add the mushrooms and sauté for 5 to 7 minutes or until liquid has evaporated and mushrooms are tender and lightly browned. Add spinach and stir until lightly wilted. Season with salt and pepper to taste.
Assemble the sandwich:
Toast the slices of bread. Layer bottom slice with caramelized onion, followed by the sautéed mushroom mixture, a sprinkle of crumbled feta cheese and top with the other slice of bread.