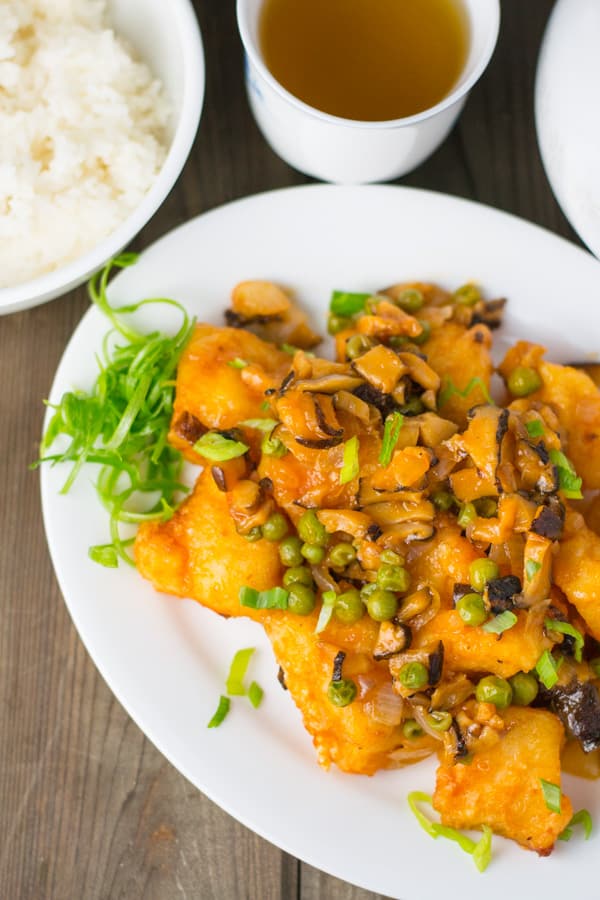 I have been using dried shiitake mushrooms a lot in my cooking lately. I love them for their health benefits as well as for their umami taste. In this Sweet and Sour Fish and Mushrooms recipe, the diced mushrooms and slices of cod are coated with a delicious sweet and sour sauce. It is similar to the sweet and sour fish normally served at Chinese restaurants. This recipe is simpler, it uses diced mushrooms and green peas as the only vegetables. I used cod in this recipe but any other firm white fish like tilapia and halibut can also be used. I only used a pound of cod but I wish I could have use more because a fish dish this good does not last long in my household. Enjoy!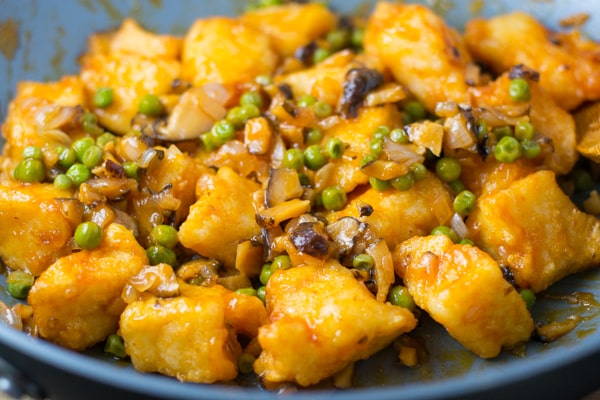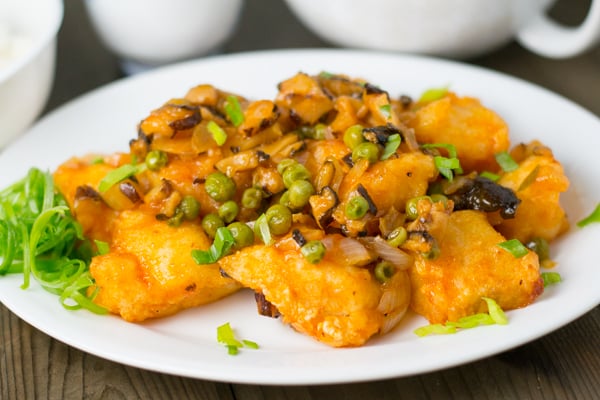 Sweet and Sour Fish and Mushrooms
Ingredients
1

lb

cod, tilapia, halibut or any other white fish, cut into 1-inch chunks

1

egg white

½

cup

plus 1 tbsp cornstarch

½

tsp

salt

4

dried shiitake mushrooms

1

small onion

peeled and diced

½

cup

frozen peas

thawed

Vegetable oil for frying
Sweet and sour sauce:
3

tbsp

sugar

3

tbsp

vinegar

6

tbsp

water

3

tbsp

ketchup

1

tbsp

cooking wine

2

tsp

cornstarch

½

tsp

salt

1

tsp

sesame oil
Instructions
In a medium bowl, combine fish with 1 egg white, 1 tablespoon cornstarch and ½ teaspoon salt. Set aside and let marinate for 30 minutes.

Cover shiitake mushrooms with boiling water and let sit for 30 minutes. Drain the mushrooms, squeeze dry and diced finely. Set aside.

In a bowl, mix together ingredients for the sauce. Set aside.

Coat each piece of sliced fish with cornstarch and then fry in hot oil in batches for 4 minutes or until golden brown. Drain on paper towels and set aside.

In a wok or skillet, heat 2 tablespoons oil over medium high heat. Add diced onions and mushrooms; stir-fry for 2 minutes or until onions has softened and mushrooms are tender. Add sweet and sour sauce and stir briskly until mixture has thickened. Add green peas and fried fish, turn off heat and stir gently until well blended.

Serve with steamed rice.