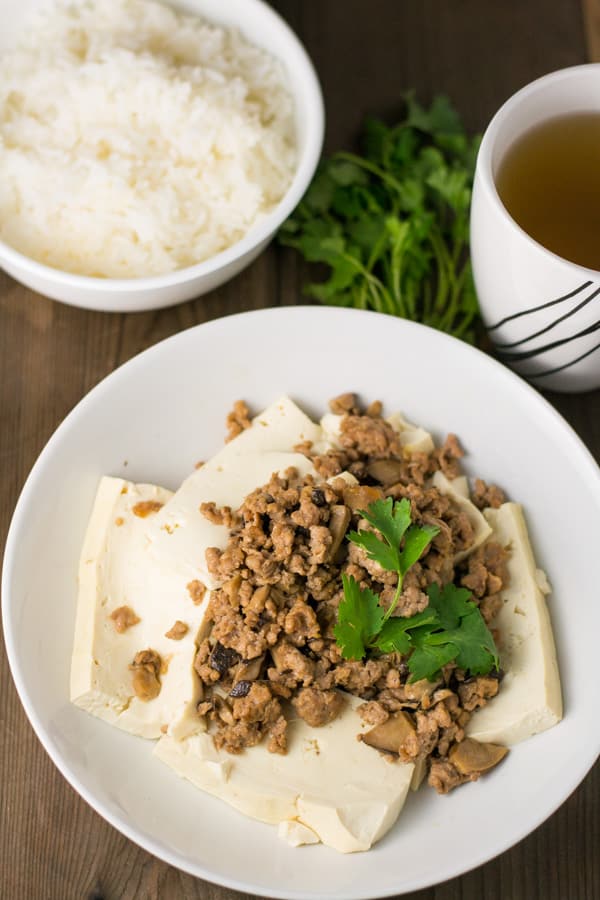 I love this steamed tofu with pork and mushrooms dish. It is not only healthy, but delicious as well. It reminds me of some of the tofu dishes we always order at Chinese restaurants. This dish consists of steamed tofu topped with sauteed ground pork and shiitake mushrooms. I used medium firm tofu in this recipe, but soft tofu will also be great because of its soft smooth texture. The tofu was sliced in smaller pieces, placed at the bottom of a heat proof shallow dish and then steamed for 7 minutes. The topping of ground pork and diced shiitake mushrooms was sauteed along with the combined flavor of grated ginger, cornstarch, sugar and soy sauce. A sauce was added afterwards to make the ground pork mixture thick and dark in color. The browned thick mixture was then served on top of the steamed tofu. My family and I enjoy this awesome tofu dish with steamed rice. It was very tasty, delicious and satisfying. I can definitely taste the umami taste of the mushrooms. Enjoy!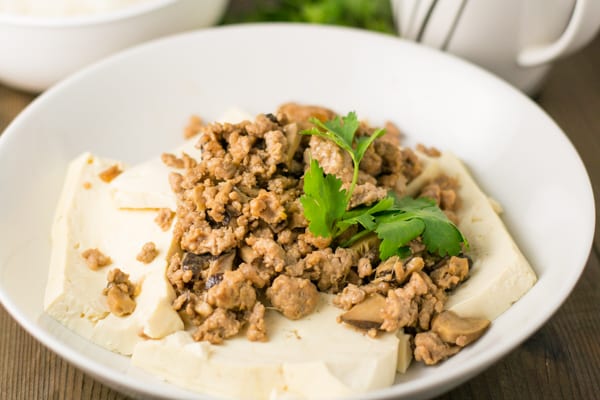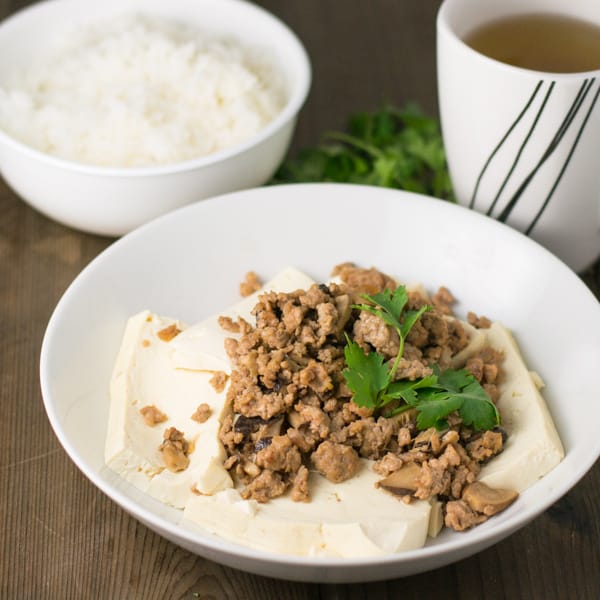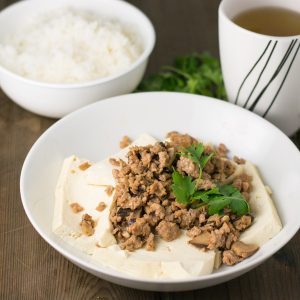 Steamed Tofu with Pork and Mushrooms
Ingredients
6

oz

to 7 dry shiitake mushrooms

about 1

1

lb

lean ground pork or chicken

1

tbsp

grated or minced ginger

1

tsp

cornstarch

A pinch sugar

3

tsp

soy sauce or more

as needed

1

package (454 g) tofu

soft or medium

1

tbsp

vegetable oil
Sauce:
1 1/4

tsp

cornstarch

1/2

tsp

sugar

1/4

cup

water

2

tsp

dark soy sauce
Instructions
Soak the shiitake mushrooms in boiling water for 30 minutes. Strain the mushroom and set aside the liquid for later use. Squeeze the mushroom dry and dice finely.

In a bowl, combine together ground pork, grated ginger, cornstarch, sugar and soy sauce. Add diced mushrooms and mix well. Set aside to marinate.

Slice tofu into half-inch thick pieces. Lay tofu pieces at the bottom of a shallow dish. You may use two shallow dishes, if needed.

Steam tofu in a steamer on medium high heat for 7 minutes. Carefully remove accumulated liquid from the dish. Set aside.

Heat the oil in a pan over medium high heat. Add the marinated ground pork mixture and sauté for a few minutes, adding some reserved mushroom liquid if mixture gets too dry. Continue sautéing until mixture turns golden brown.

In a small bowl, whisk together ingredients for the sauce. Add sauce into the mixture in the pan, stir and then cook until mixture thickens. Turn off the heat and spread mixture on top of the steamed tofu.

Serve with steamed rice and enjoy.