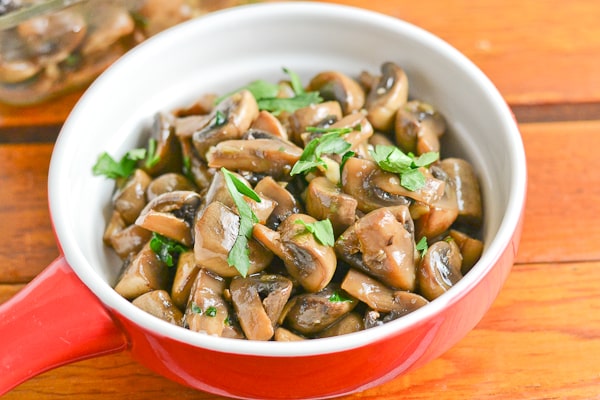 I made this simple side dish to go with the baked chicken I made for dinner the other night. It was a hit with my family, which was not surprising because they love all kinds of mushroom dishes. In this recipe, the mushrooms were soaked in a bowl of cold water for 10 minutes. This step was very unusual but in the end it worked out well.  Although the mushrooms shrank a lot, it still came out firm and yet tender.  The garlic and parsley were added at the last few minutes of cooking and were able to retain their flavor and nutritional benefit. Furthermore, the addition of extra virgin olive oil made this awesome dish guilt-free and very satisfying. Enjoy!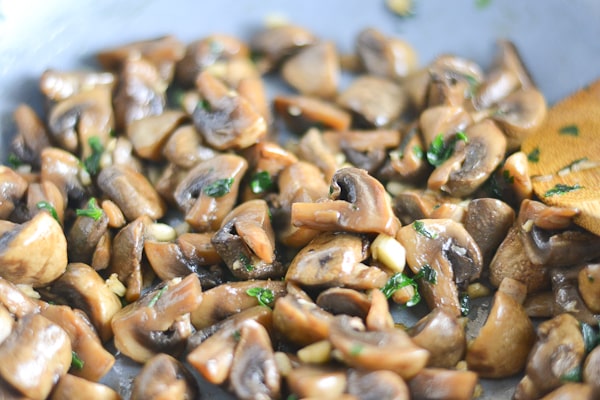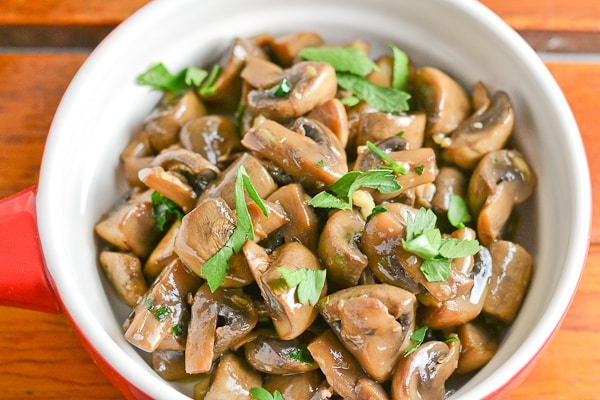 Site Changes
You may have noticed that there have been a few small changes to my blog. I've added a section just above the comments to show related recipes. Also, there are some new social share buttons at the top and bottom of the post. One of these is the Yummly yum button. I encourage you all to use it!
Catalan Mushrooms with Garlic and Parsley
Ingredients
1 ½ lbs medium-size white mushrooms, stems trimmed to ½ inch, and quartered
¼ cup extra-virgin olive oil
¼ cup finely chopped flat-leaf parsley
2 tbsp finely chopped fresh garlic
Sea salt to taste
Instructions
Put the mushrooms in a large bowl of cold water to soak for 10 min; rinse well and drain.
Heat a large sauté pan with a tight-fitting lid over medium heat. Add the mushrooms, cover and cook for 20 minutes. The pan will be filled with liquid (from the mushrooms) at this time.
Remove the lid, raise the heat to medium high, and boil until the liquid evaporates and the mushrooms begin to sizzle but haven't browned.
Lower the heat to medium and stir in 1 tablespoon of the olive oil, the parsley, and the garlic. Sauté, stirring frequently, until the garlic softens, another 3 to 4 minutes. Transfer the mushrooms to a serving bowl and stir in the remaining olive oil. Season with salt to taste.
Serve and enjoy!