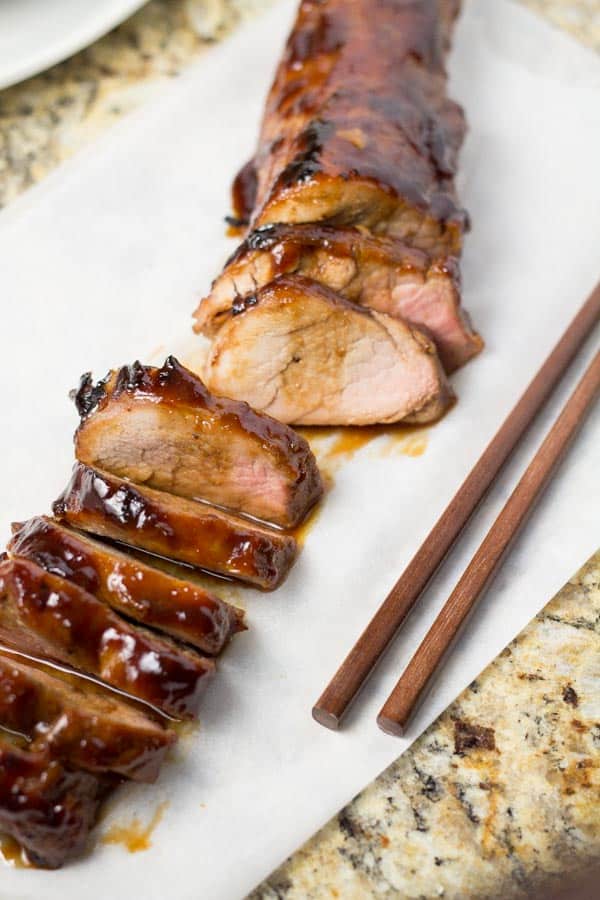 Char siu is a Chinese barbecue pork dish that is commonly sold cooked in Chinese supermarkets. I have such fond memories of this dish. On Saturdays, I would go to the local Asian supermarket and when pressed for time, I would buy some Char siu for lunch. I would use the leftovers to make Char siu fried rice and eat it the next day. This is truly a versatile dish!
In this recipe, pork tenderloin is used. Others may use pork belly or pork shoulder, but I prefer using pork tenderloin because the meat is so tender and not so fatty. The tenderloin is marinated overnight in a mixture of hoisin sauce, Chinese 5 spice, sesame oil, ketchup, soy sauce, honey and canola oil. Then, it is roasted in the oven until cooked. The dish came out so good. I decided to make some extra glaze to make this dish look even more appealing. Enjoy!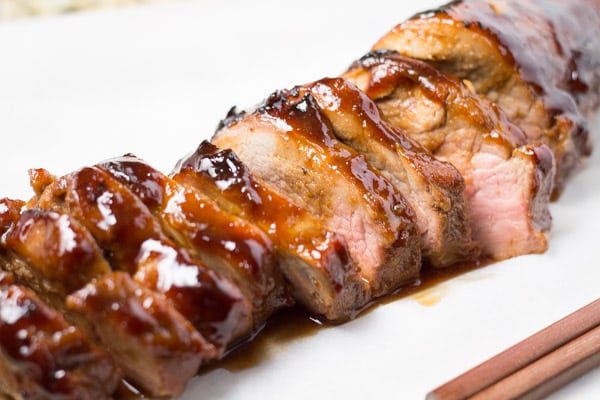 Char Siu (Chinese BBQ Pork)
Ingredients
Marinade/Sauce
½ tbsp. sugar
1 tbsp honey
2 tbsp hoisin sauce
1 ½ tbsp. soy sauce
½ tsp Chinese 5 Spice
½ tsp sesame oil
1 tbsp canola oil
1 tbsp ketchup
Pork
1 lb of pork tenderloin
1 tbsp of honey
Instructions
Place all of the marinade/sauce ingredients in a small saucepan and heat for 30 seconds.
Let the sauce cool. Then, place the pork and the sauce in a ziplock bag and mix.
Refrigerate the pork and marinade mixture. Marinate for 3 hours or overnight.
Preheat the oven to 350F.
Line a baking sheet with parchment paper and place a rack (like a cooling rack) on top of the baking sheet.
Place the pork tenderloin on the rack. Reserve any remaining sauce from the ziplock bag.
Place the pork in the preheated oven and roast until the internal temperature hits 145F – 160F. At about half way through cooking, baste the pork tenderloin by using half of the reserved sauce. The total baking time depends on the thickness of the pork tenderloin. For me it took 35-40 minutes.
Once the pork is fully cooked, take the remaining marinade and add 1 tbsp of honey to it and mix.
Baste the pork tenderloin once more using all the remaining marinade mixture.
Switch the oven to broil and return the pork to the oven. Broil for about 2 minutes.
Remove the pork from the oven and allow to rest for 10 minutes before cutting.
Serve and enjoy!