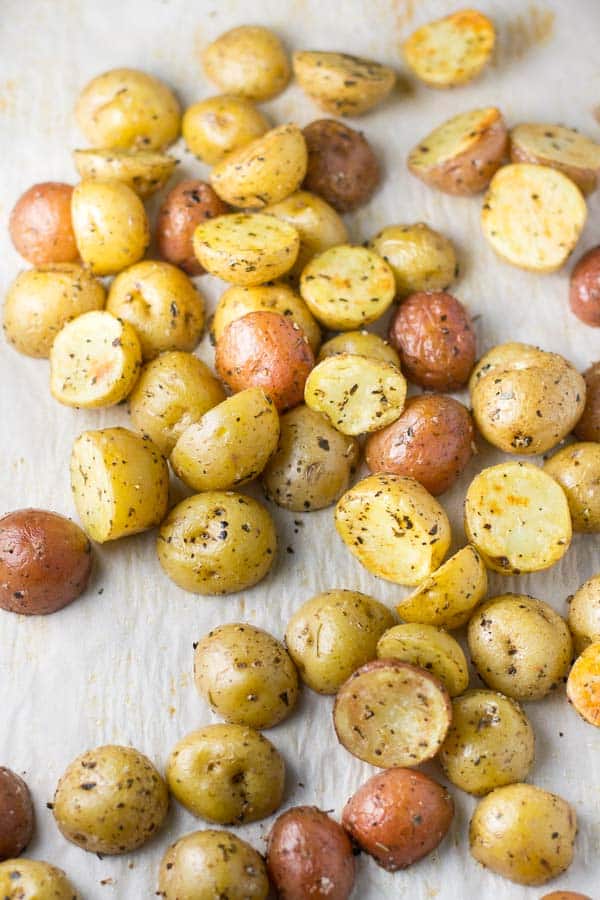 I love using baby potatoes in my cooking. I love them for their smooth thin skin, buttery yellow flesh and silky fluffy texture. In fact, I always buy a bag of them whenever I do my grocery shopping every Saturday. I have tried many baby potato recipes before but I am constantly looking for new recipes to try. Roasting the potatoes in the oven has always been my favorite way to cook them. It is an easy process and most of all, requires less cleaning up afterwards. This recipe was inspired from another potato recipe I have shared, Ultimate Roasted Potatoes. In this recipe, the baby potatoes were simply coated with olive oil and Italian seasoning and then baked in the oven cut side down for half an hour. The herbs in the Italian seasonings gave the potatoes flavor while baking them cut side down made them crispy on the outside while still tender on the inside. This Italian seasoned roasted potato recipe is simple and delicious. We like to snack on them or serve them as a side dish with meat or fish. It is definitely a keeper. Enjoy!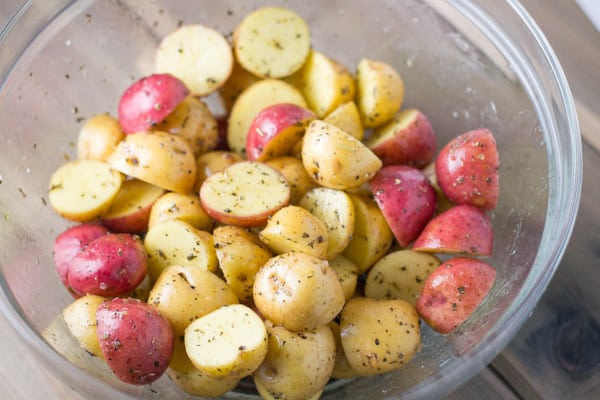 Roasted Potatoes with Italian Seasoning
Ingredients
2 lbs baby potatoes
2 tbsp olive oil
1 tsp Italian seasonings
Sea salt and freshly ground pepper
Instructions
Preheat oven to 400 degrees F. Line baking sheet with parchment paper.
Wash potatoes under running water with a vegetable brush and then wipe dry with paper towels. Cut potatoes in halves.
Place halved potatoes in a bowl; toss with the oil until evenly coated. Add Italian seasonings, salt and pepper and toss until well combined.
Place halved potatoes cut side down on prepared pan. Bake in the oven for 30 minutes or until potatoes are fork tender.
Serve and enjoy!