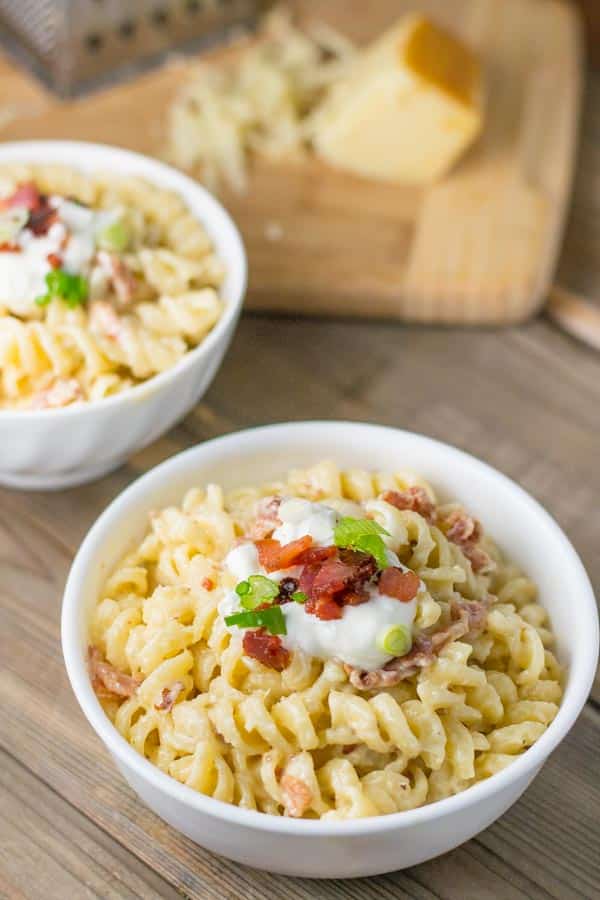 Mac and cheese is a dish that was unfamiliar to me until I immigrated here in Canada with my husband and three boys. I soon learned how popular macaroni and cheese is with children and adults. The reason may be because it is a cheap and easy meal to prepare especially if it comes in a box. I have tried mac and cheese from a box and it is a dish that I am not a big fan of. I would rather have a good noodle or rice dish. However, this homemade cheddar bacon mac and cheese dish changed my mind. I used fusilli in this recipe because it was what I had in my pantry but you may use other kinds of short pasta. The creamy sauce that coated the pasta consisted of whipping cream, bacon and of course cheese. I used smoked cheddar cheese in this recipe and it gave this dish a great and delicious taste. I saved some of the cooked bacon and along with sour cream and sliced green onions, used them to garnish this rich and comforting dish.  The family enjoyed this hearty and satisfying dish even on the next day. Enjoy!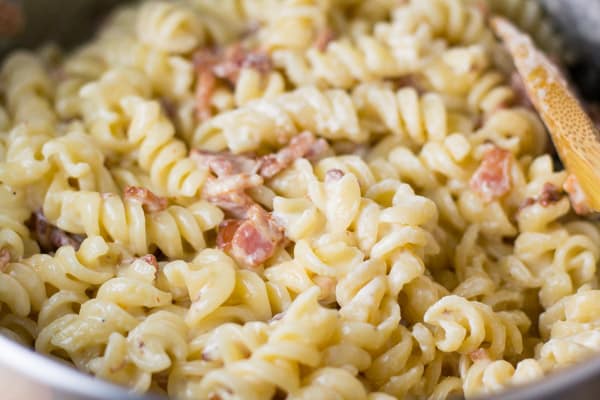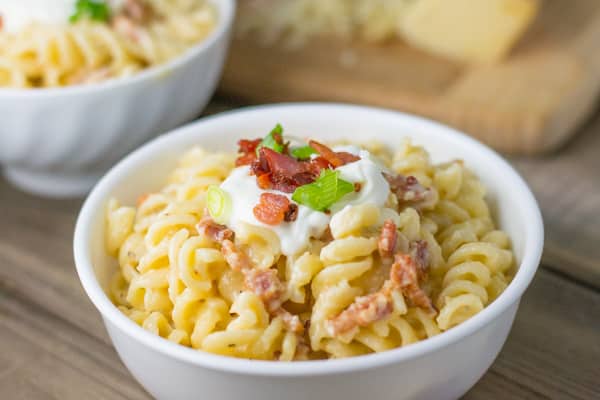 Cheddar Bacon Mac and Cheese
Ingredients
1 lb elbow macaroni, fusilli or other short pasta
¾ lb bacon, diced (8 thick slices)
3 cups whipping cream
2 cups firmly packed shredded smoked cheddar cheese
Salt and pepper to taste
Sour cream and thinly sliced green onions, for garnish
Instructions
Cook pasta in pot of boiling salted water until tender but still firm to bite. Drain (don't rinse) and return to the pot.
Meanwhile, place a sauté pan over high heat for several minutes. Add the bacon and sauté for 5 minutes, or until browned and crispy (lower heat to prevent scorching). Remove the pan from heat and using a slotted spoon, remove the bacon and drain on paper towels.
Pour off fat from the pan and return pan to medium-high heat. Add the cream and bring to a boil, scraping any browned bits from the bottom of pan. Lower the heat to medium and continue to simmer until the cream has reduced slightly, about 3 minutes.
Add the cheese and bacon. Stir well and cook, stirring occasionally for 3 minutes or until cheese has melted and mixture thickens. Season with salt and pepper.
Stir the sauce into the drained pasta in the pot. Place over medium heat and stir for 1 to 2 minutes to allow pasta to absorb the flavors.
Serve with a dollop of sour cream and a sprinkle of green onions.