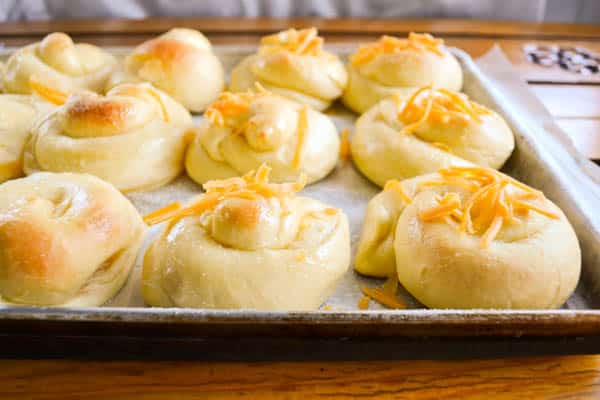 Three years ago, my oldest son and I went to visit the Philippines. It was my son's first time going after 17 years. He was just 6 years old when we came to Canada,  so he was quite excited to see his uncles, aunts and cousins. Our relatives took turns taking us to shopping malls and restaurants. Being both food enthusiasts, my son and I tried every Filipino food that we could possibly eat. One of the many things we had tried was ensaymada.
Ensaymada is one of the favorite breakfast or snack of most Filipinos.  It can be bought anywhere from a stall in the mall, in a bakeshop or even at a fast food court.  I have tried several times to make ensaymadas. This recipe is the closest to the store bought ensaymadas that I always have  for snack. I am really proud and satisfied with how it turned out. My husband was commenting on how the smell of the freshly baked ensaymadas makes him hungry.  It is best eaten when it's freshly baked but still good the next day, just warm it up for 20-30 seconds in the microwave. And I am pretty sure, just like my husband and oldest son, you won't be able to eat just one 🙂

Cheese Ensaymada (Filipino Style Brioche)
Serves:
15 Yummy and Cheesy Ensaymadas
Ingredients
1 tablespoon active dry yeast
1 tablespoon sugar
½ cup lukewarm water
4 egg yolks
½ cup sugar
¼ cup evaporated milk
½ teaspoon salt
½ cup melted unsalted butter
3 cups all-purpose flour
2½-3 cups grated cheddar cheese
Instructions
Line a cookie sheet with parchment paper. Set aside.
Dissolve yeast and sugar in a small amount of lukewarm water. Set aside.
In a mixing bowl, combine the egg yolks, sugar, milk, salt, ¼ cup melted butter, remaining water and 1 ½ cups flour to form a sponge dough.
Stir in yeast mixture. Add the rest of the flour (1 ½ cups) and remaining butter (1/4 cup) then transfer the dough on a floured board.
Knead dough until smooth and blisters appear (around 5-10 minutes). Transfer the dough in a greased bowl; cover with plastic wrap and let rise for 2 hours or until double in size.
Punch down the dough and divide it into 15 pieces, each piece weighing approximately 2 oz.
Form each piece into a ball and using a rolling pin, roll out thinly into a 5X4 inch rectangle. Brushed the surface with creamed butter and sprinkle with grated cheese. Roll as in jelly roll and form into a coil.
Place in prepared cookie sheet, brush top of each ensaymada with melted butter and let rise for 4 hours or until double in size. (The longer you let it rise, the softer the ensaymada would be)
Bake in a preheated 350° F oven for 10-15 minutes or until light golden brown (depends on the oven). Immediately brush the top of ensaymada with melted butter and let cool slightly.
Before serving, top with creamed butter, sugar and grated cheese.
Enjoy!
Notes
Recipe adapted from the cookbook "The Maya Kitchen".