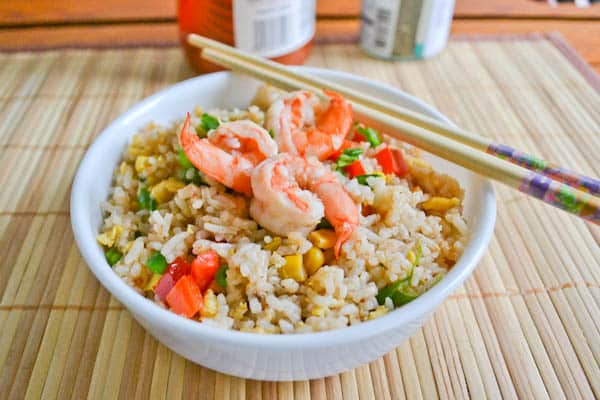 Fried rice is a popular staple in my house, especially when my kids were growing up. It is a good way of using left-over rice and vegetables. It is a very versatile dish; you can use any meat, vegetables or seasonings you like.  Some of the fried rice that I make for my family are salmon fried rice, garlic fried rice, adobo fried rice and shrimp fried rice.
Shrimp fried rice is my version of the popular Yung Chow fried rice. Both have shrimp as the main ingredient. Both also have eggs and green peas. For my fried rice, I added my favorite vegetables: red bell pepper and sweet kernel corn. Instead of using soy sauce, I use liquid seasoning to add flavor to my fried rice.
I love making fried rice for my family because it makes life easier for me. Instead of cooking rice and a dish, all I have to do is just make fried rice 🙂

Shrimp Fried Rice
Ingredients
4 cups cold cooked rice
2 eggs, lightly beaten
3 tablespoons olive oil
½ lb fresh medium shrimps, peeled and deveined
¼ cup diced red bell pepper
¼ cup frozen green peas, thawed
¼ cup canned sweet kernel corn
2 green onions, sliced diagonally into short pieces
2 tablespoons liquid seasoning or soy sauce
Instructions
Season the eggs with salt and pepper.
Heat 1 tablespoon oil in a large frying pan. Add the beaten eggs; pushing the set egg towards the center and tilting the pan to let the unset egg run to the edges. Cook until firm and then break up into large pieces. Transfer into a plate and set aside.
Using the same pan, heat the remaining 2 tablespoons oil. Add the bell pepper, green peas and kernel corn. Stir fry for 2 minutes.
Add shrimps; stir fry for another 2 minutes. Add rice and stir fry for 3 more minutes or until the mixture is well blended and the shrimps turn pink.
Add the eggs, liquid seasoning and green onions. Heat through and serve.
Enjoy!