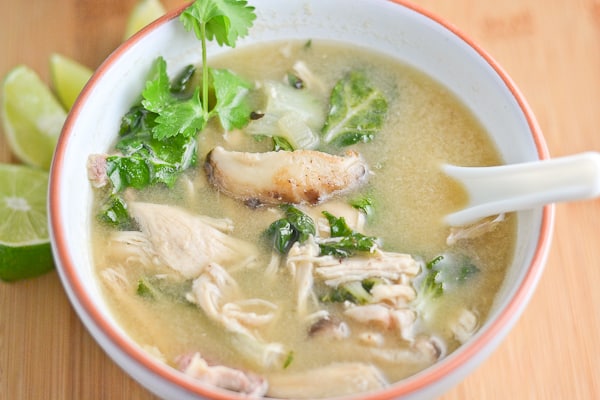 Spring has arrived and I love this time of the year. It has been a great and productive two weeks off from work. I feel like I have accomplished a lot and feel happy and blessed with all the things that are happening in my life. I am grateful for my family, friends and a job that I like. These past two weeks I was also able to spend some time on my blog. I was able to try some new recipes, most of which I had success with and will gladly be sharing with you guys. One of those is this chicken soup that has an Asian twist to it. It consists of fresh shitake mushrooms and baby bok choy and is flavored with white miso. It also uses rotisserie chicken meat, my favorite meat to use in soups and salads. I find it not only convenient to use but tasty as well. My family and I enjoyed this comforting soup on a rainy spring day. Enjoy!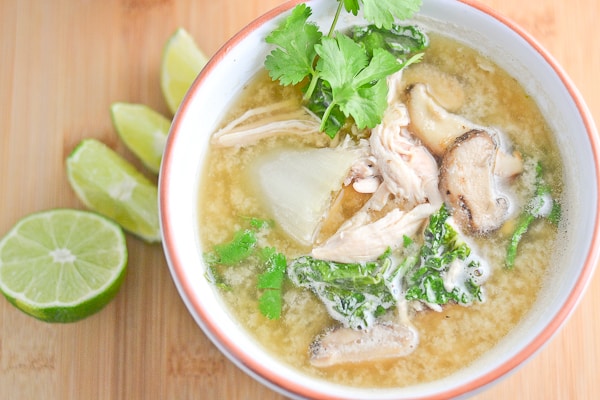 Chicken and Vegetable Miso Soup
Ingredients
1 medium onion, chopped
6 oz. fresh shiitake mushrooms, stems removed, caps sliced
2 celery stalks, thinly sliced
Kosher salt
2 tbsp olive oil
6 cups low-sodium chicken broth
3 cups shredded rotisserie chicken meat
5 heads baby bok choy trimmed, rinsed and cut into bite-size pieces
3 tbsp. white miso (fermented soybean paste)
Instructions
In a large pot, heat oil over medium-high heat. Add onion, mushrooms, and celery; season with salt. Cook, stirring for 5 to 7 minutes or until vegetables are just beginning to soften and beginning to brown.
Add broth and chicken; bring to a boil. Spoon a ladle of broth into a small bowl, add miso and whisk until well combined and then pour back to the pot. Add bok choy, reduce heat and simmer for 2-3 minutes, making sure not to let the soup boil.
Serve and enjoy!