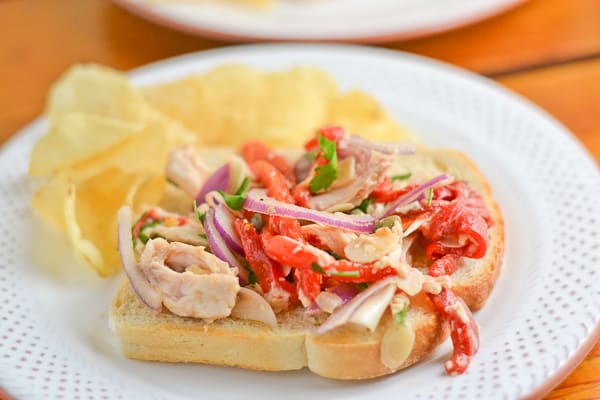 Here's another simple salad that makes use of left-over rotisserie chicken meat. If you're like me and love eating rotisserie chicken, but always have left overs, then this dish is perfect for you. This tasty and versatile meat combined with roasted red peppers, thinly sliced red onions, fresh parsley, sliced almonds and capers and dressed with simple vinaigrette is an ideal meal to put together on a busy weeknight.  This Italian chicken salad recipe is a light, healthy and very satisfying as well. You may serve this fantastic salad simply with your favorite greens or have it on your favorite toasted bread just like what my family did. Enjoy!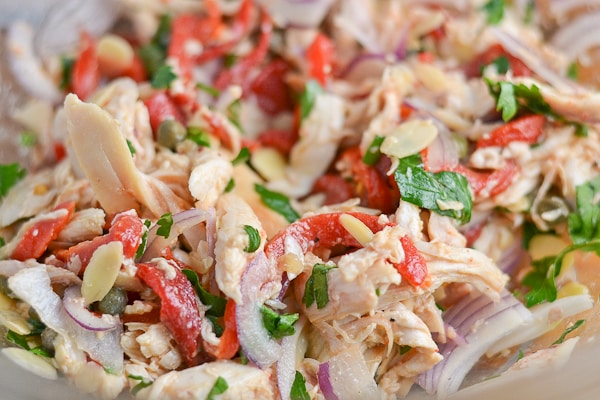 Italian Chicken Salad
Ingredients
2 cups shredded rotisserie chicken meat
3 big pieces jarred roasted red peppers, rinsed, drained and cut lengthwise into thin strips
½ medium red onion, sliced thinly
¼ cup chopped fresh parsley
¼ cup sliced blanched almonds, roasted
2 tbsp capers, with brine
Salt and pepper to taste
Dressing:
2 tbsp red wine vinegar
1tbsp lemon juice
1 tbsp honey
1 tbsp Dijon mustard
Instructions
In a large bowl, combine the chicken, roasted peppers, red onions, almonds, capers and parsley. Salt and pepper to taste
Combine the vinegar, lemon juice, honey and mustard in a blender and blend until emulsified. Pour in with the chicken mixture; stir to coat.
Serve cold and enjoy!