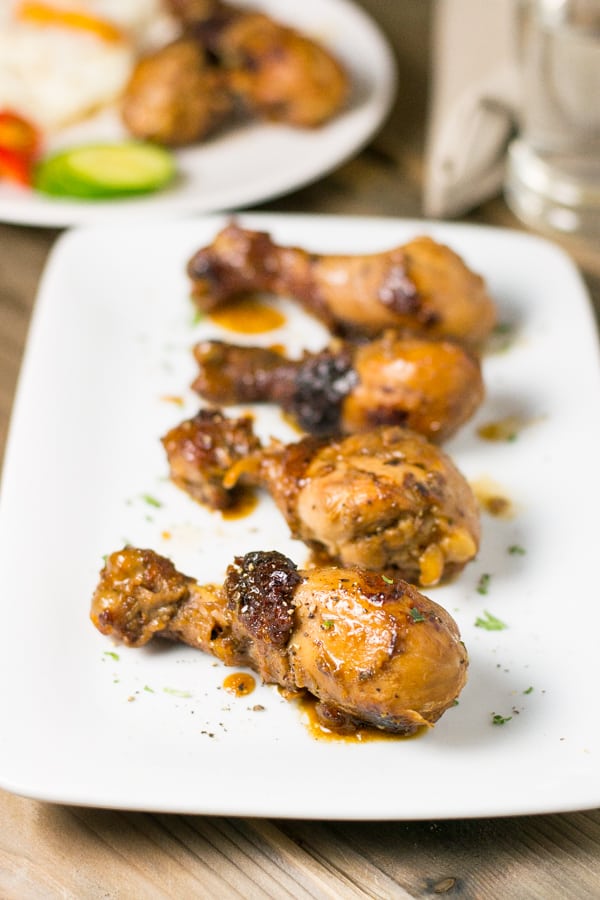 Filipino asado is one of those dishes that you will not find one standard recipe. Every household has its own version of this popular dish, depending on the region the family comes from. I have also searched online and looked through many Filipino cookbooks and again, each one has a different way of cooking asado. One variation that I am familiar with is the one that was shared to me by my sister. She, in turn got the recipe from her mother-in-law, who up till now still cooks for her family. The Filipino chicken asado recipe originally uses pork as the main protein but other meats may also be used. I used drumsticks but you may use other chicken pieces. Furthermore, this recipe originally uses 7-up to marinade the meat but I used ginger ale because that's what was available in my pantry. The chicken drumsticks were first marinated in a mixture of ginger ale, vinegar, soy sauce, brown sugar and garlic, fried and then cooked in the marinade. The chicken with the thick sauce came out sweet, tender and delicious. My family can't get enough of this dish. We had it with steamed rice but it is also good with fried egg. Enjoy!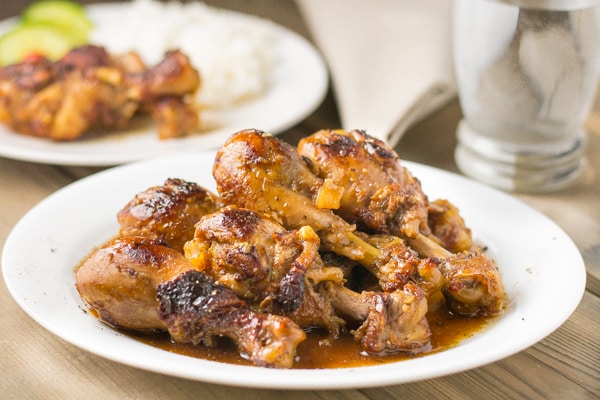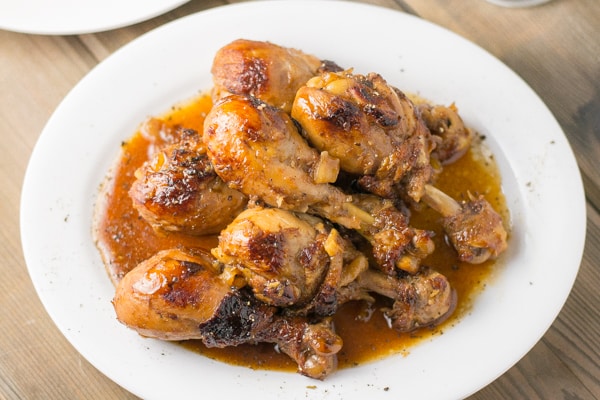 Chicken Asado
Ingredients
3

lbs

chicken drumsticks or any chicken pieces

Sea salt and freshly ground black pepper

1

cup

ginger ale, 7-up or sprite

1/2

cup

vinegar

2

tbsp

soy sauce

2

tbsp

brown sugar

3

cloves

garlic

minced or grated

Vegetable oil for frying

1

cup

water or more

as needed
Instructions
Wipe chicken pieces dry with paper towels. Season with salt and pepper.

In a large bowl, combine ginger ale, vinegar, soy sauce, brown sugar and garlic. Add chicken pieces and stir to combine. Cover with plastic wrap and refrigerate for at least 1 hour.

Drain chicken pieces (save the marinade) and wipe dry with paper towels. Set aside.

Heat oil in a skillet over medium heat. Fry the chicken until golden brown. Drain in paper towel.

In a skillet, combine browned chicken, reserved marinade and water. Bring mixture to a boil, reduce heat and let simmer for 30 minutes or until chicken is tender and sauce thickens, adding more water as needed.

Serve and enjoy!