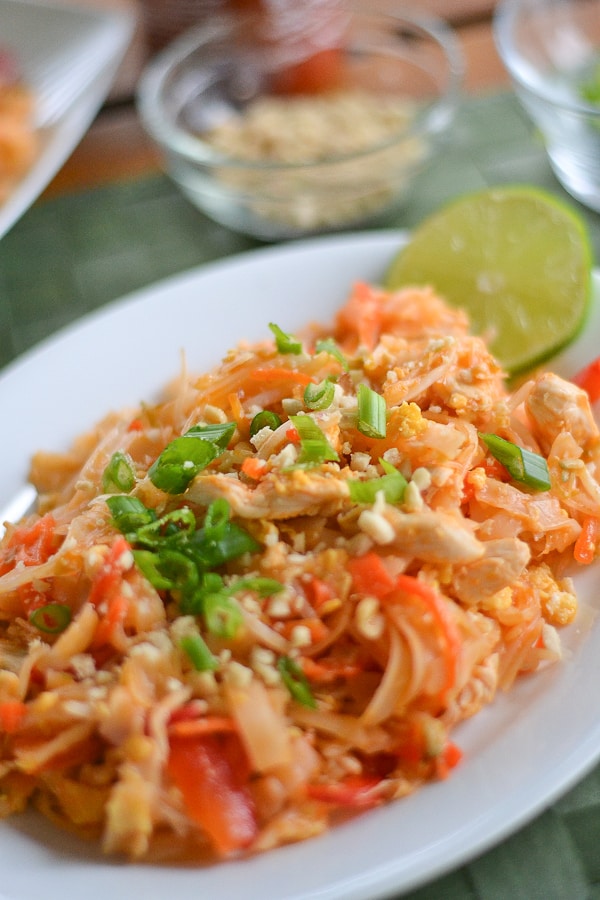 Pad Thai is one of my family's favorite Thai noodle dish. The wide noodles and vegetables in sweet, sour and salty sauce is so delicious; we never fail to order it every time we eat in a Thai restaurant. The sprinkled chopped peanuts even make this popular dish more delectable and enjoyable. This recipe uses chicken pieces but it may be replaced by shrimps or tofu if you want it to be a vegetarian dish. This dish is made uniquely Thai by using some of the country's classic and well known ingredients; fish sauce and limes. This dish is so well loved by my family; I promise to make it regularly.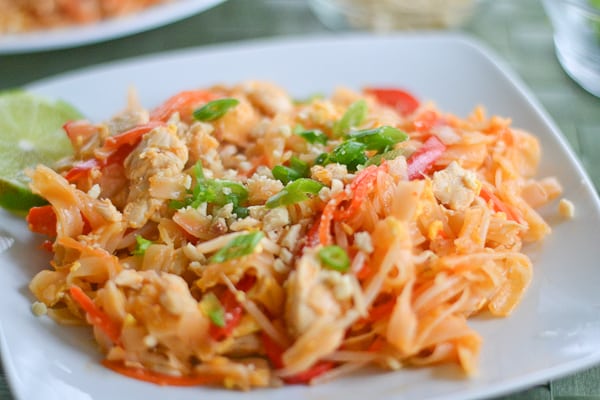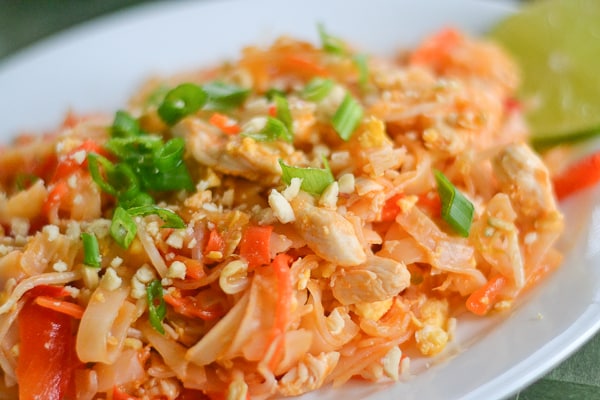 Chicken Pad Thai
Ingredients
½ (14 oz/400 g) pkg wide rice stick noodles
⅔ cup chicken stock
½ cup ketchup
¼ cup fish sauce
2 tbsp granulated sugar
2 tbsp cornstarch
1 tsp grated lime rind
2 tbsp lime juice
1 tsp hot pepper sauce
2 tbsp vegetable oil
2 eggs, lightly beaten
1 lb boneless skinless chicken breasts, sliced
2 small carrots, thinly sliced
1 sweet red pepper, sliced
2 cloves garlic, minced
1 tbsp minced gingerroot
2 cups bean sprouts
2 green onions, sliced
¼ cup chopped unsalted peanuts
Instructions
In large bowl, soak noodles in warm water for 20 minutes; drain and set aside.
Meanwhile, in small bowl, whisk together stock, ketchup, fish sauce, sugar, cornstarch, lime rind and juice and hot pepper sauce; set aside.
In wok or large skillet, heat 1 tbsp of the oil over medium heat; cook eggs, stirring often, for 2 minutes or until scrambled and set. Transfer to plate.
Wipe out wok; add remaining oil. Brown chicken, in batches, over medium-high heat. Transfer to separate plate.
Add carrots, red pepper, garlic and ginger to pan; cook, stirring, for about 3 minutes or until slightly tender. Add noodles; stir gently for 1 minute.
Return chicken to pan. Stir sauce and pour into pan; cook, stirring, for 5-6 minutes or until thickened, noodles are tender and chicken is no longer pink inside.
Return egg mixture to wok along with bean sprouts; toss gently for 1 minute or until heated through. Serve sprinkled with green onions and peanuts.
Notes
Source: CanadianLiving.com