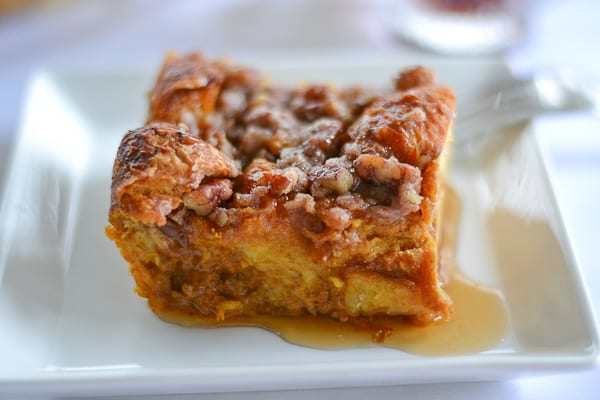 This breakfast dish reminds me of French toast, a Sunday breakfast treat that I used to make for my kids when they were growing up. While French toast is simply bread soaked in beaten eggs then fried, pumpkin croissant breakfast bake consists of cubed croissant soaked in custard and then baked. Pumpkin puree was added to the egg mixture giving it more flavor as well as texture.  Furthermore streusel topping was sprinkled on top of it halfway through the baking time. Just like French toast, this dish is so good served with maple syrup. Delicious!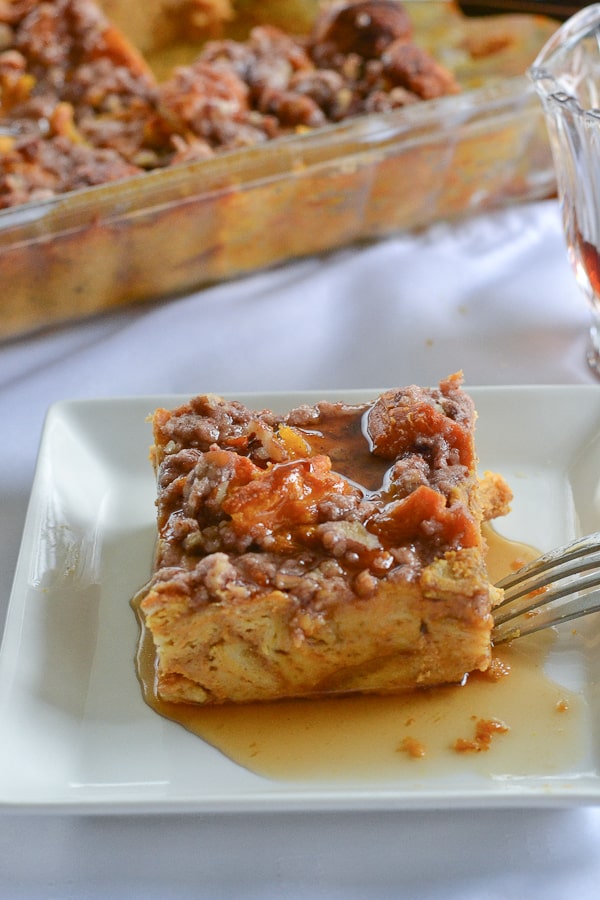 Pumpkin Croissant Breakfast Bake
Ingredients
6 croissants, cubed
2 cups heavy cream
1 (15 oz) can pumpkin or 1⅞ cups
1 cup whole milk
1 ¼ cup sugar
4 large eggs
1 large egg yolk
1 tsp ground cinnamon
¼ tsp ground allspice
Pure maple syrup for serving
Topping
¼ cup sugar
¼ cup flour
1 tbsp water
1 tsp ground cinnamon
¼ cup butter, softened
¼ tsp salt
⅓ cup chopped pecans
Instructions
Prepare the topping: Place all ingredients in a medium bowl and mash together with a fork until crumbly. Store in the refrigerator while the custard is being prepared.
Spray a 13X9-inch casserole dish with cooking spray. Place cubed croissants in the dish and set aside.
In a bowl, whisk together cream, pumpkin, milk, eggs, egg yolk, cinnamon and allspice. Pour over the croissant cubes. Press the croissant pieces down into the custard so they are thoroughly coated with the mixture. Cover and refrigerate for 1 hour.
Preheat oven to 350°F.
Bake for 35 minutes, and then sprinkle with the topping. Bake for additional 20-25 minutes, or until the custard is just set. Serve with pure maple syrup.
Notes
Recipe developed by Heather Baird and featured in the cookbook "Enjoy Cooking: The Costco Way".