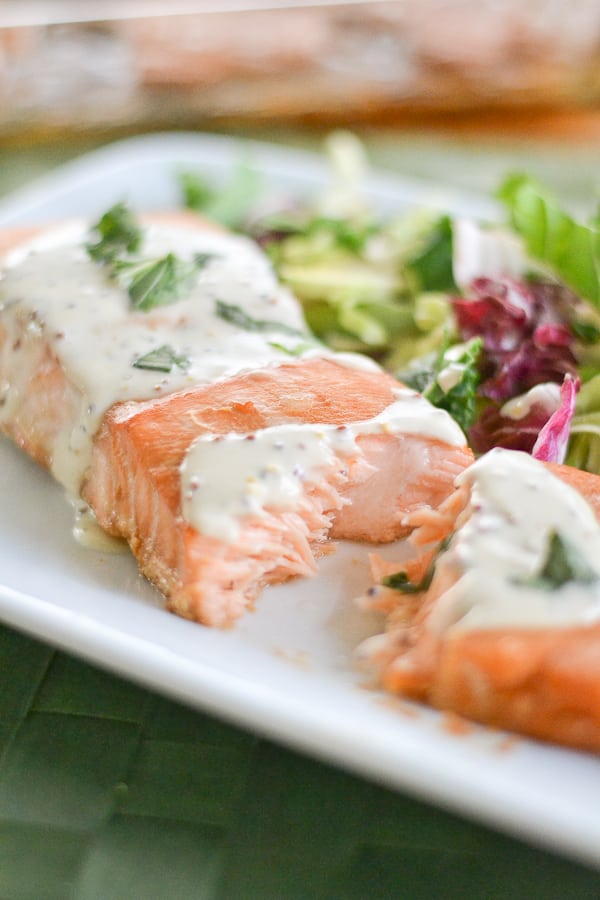 I made this salmon with creole mustard sauce last weekend and became instant hit with my family. I love making baked salmon because it is healthy. I have shared many salmon recipes in the past such as Salmon with Sweet Cherry Tomato Sauce,  Spice-Crusted Roast Salmon with Ginger Beets,  Crusted Salmon with Honey Mustard Sauce, Baked Marinated Salmon Fillet with Basil Walnut Pesto and Baked Salmon with Herbed Mayo. The salmon pieces were first marinated in a mixture of melted butter, brown sugar, soy sauce, lemon juice and white wine. It was then baked and served with a Creole mustard sauce. The baked salmon was tender and succulent and the creamy and grainy sauce adds more flavor and texture to it. Delicious!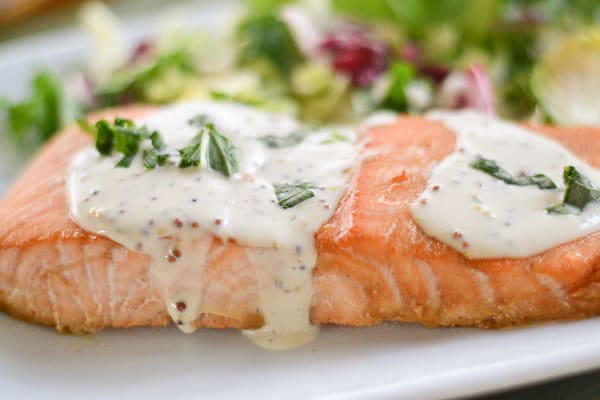 Salmon with Creole Mustard Sauce
Ingredients
4 tbsp unsalted butter, melted
3 tbsp light brown sugar
3 tbsp soy sauce
2 tbsp fresh lemon juice
2 tbsp white wine
1 (2 lb) salmon fillet, cut into 4 portions
Creole Mustard Sauce
1 cup whipping cream (or half and half)
¼ cup stone-ground or whole-grain mustard
1 tsp Dijon mustard
4 tsp Worcestershire sauce
½ tsp dried basil
¼ tsp ground black pepper
¼ tsp white pepper
¼ tsp cayenne pepper
1 cup sour cream
Instructions
In a small bowl, combine butter, brown sugar, soy sauce, lemon juice and wine. Place salmon in a Ziploc bag and pour in the marinade. Refrigerate for 1-6 hours.
Preheat oven to 450°F. Place the salmon with the marinade in a baking dish and bake for 20 minutes. Then broil for an additional 2 minutes.
Prepare the sauce: In a heavy saucepan, combine cream, mustards, Worcestershire, basil and peppers. Cook, stirring, over medium heat until thick, about 5 minutes. Add sour cream and stir well. Spoon the sauce over each salmon portion.
Serve and enjoy!
Notes
Recipe source: Enjoy Cooking: The Costco Way
If you enjoyed this healthy baked salmon dish, here are some others that I have made:
Roasted Salmon with Potatoes and Mushrooms
Broiled Salmon with Ginger Honey Glaze
Oven Poached Salmon with Honey and Thyme