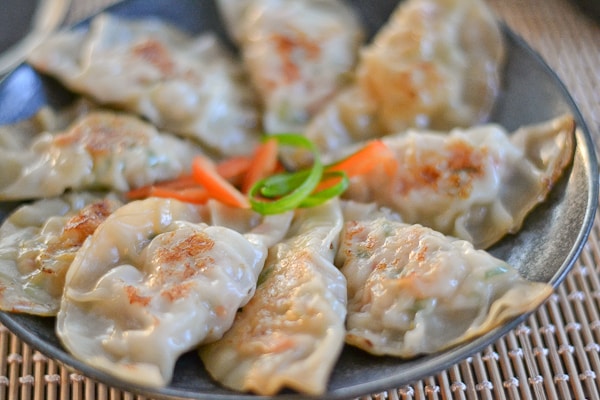 My family loves pot stickers. It is one of those dishes we must have every time we eat at a Chinese restaurant. It is a type of dumpling which usually consists of ground meat and  vegetables (or just vegetables) mixture wrapped in a dumpling or wonton wrapper and normally sealed with pleats on the edge. It can either be fried or steamed. Either way, these delicious dumplings served with dipping sauce is a perfect appetizer to share with your friends and family. Enjoy!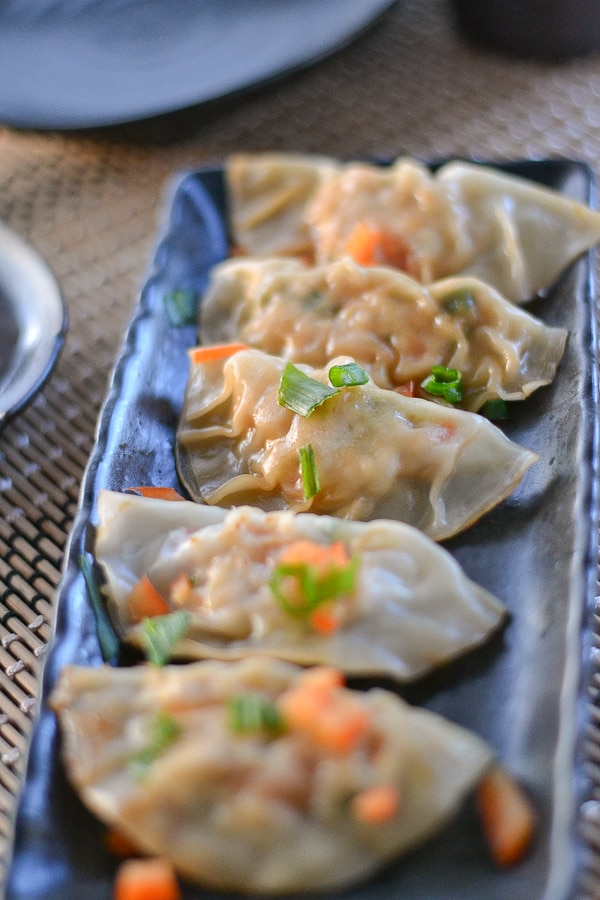 Chicken Pot Stickers
Ingredients
1 package (8 oz) round dumpling or wonton wrappers (36 pieces)
1½ cups chicken broth, divided
3 tsp soy sauce, divided
Filling
12 oz ground chicken
½ cup of shredded cabbage or coleslaw mix
⅓ cup chopped green onions
1 tsp grated ginger
1 tsp sesame oil
⅛ tsp white pepper
½ cup finely chopped red bell pepper
1 egg white
Dipping sauce
2 tbsp rice vinegar
2 tbsp soy sauce
A drop of your favorite hot sauce (optional)
Instructions
In a medium bowl, mix all ingredients for filling.
Lightly brush each wrapper with water. Place one teaspoonful of filling on center of wrapper. Pinch 5 pleats on edge of one half circle. Fold circle in half over filling, pressing pleated edge to unpleated edge. Repeat with remaining wrappers and filling.
Spray 12-inch non-stick skillet with cooking spray; heat over medium heat. Cook 12 pot stickers at a time in skillet for 3 minutes or until lightly brown, turning halfway. Stir in1/2 cup broth and 1 teaspoon of soy sauce. Cover and cook for 5 minutes. Uncover and cook 1 more minute or until liquid has evaporated. Repeat with remaining pot stickers, broth and soy sauce.
Serve with the dipping sauce.
Notes
Recipe adapted from: Betty Crocker: Easy Chinese Cookbook