I made this soup for my youngest son when he was not feeling well last week.  It was so good; the rest of my family had to have it too. I love how the ingredients blend together to give this awesome soup so much flavor, aroma and texture. I personally love the bacon, white beans and the kale in this recipe. If preferred, the bacon may be omitted to make this soup a vegetarian one. The recipe calls for ½ head kale but I used 2 cups of mixed baby kale from the package I bought from Costco, the same way I used 2 cups of shredded cabbage/carrot from a package of coleslaw mix. This way, I did not have to chop and I can still use the extras for salads. My family agrees with me when I say it is one of the best soups we ever had. It was hearty, filling and very satisfying. Hope you enjoy it too!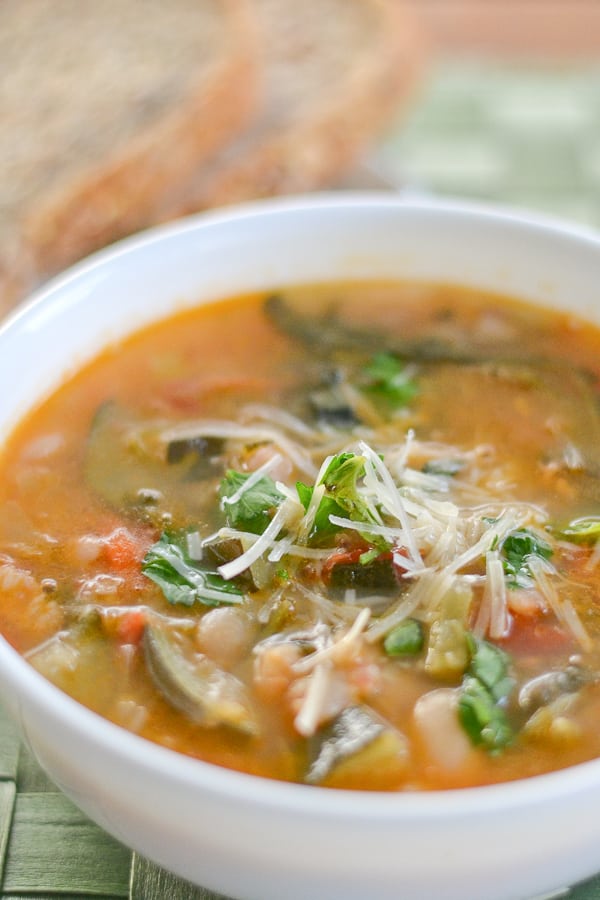 Minestrone Soup with Bacon and Kale
Ingredients
2(540ml/18.26 oz) cans white kidney beans, rinsed and drained
½ cup extra virgin olive oil
8 oz bacon, diced
2 garlic cloves, minced
1 onion, chopped
2 stalks celery, diced
1 carrot, diced
1 sprig rosemary, chopped
1 (14 oz) can diced tomatoes
½ head kale, chopped
½ white cabbage, chopped
2 leeks, sliced
2 zucchini, diced
Salt and freshly ground pepper, to taste
8 cups chicken stock
Handful basil, chopped
Handful Italian parsley, chopped
Freshly grated Parmesan cheese
Instructions
Mash half the beans and leave the remaining half whole. Set aside.
Heat the olive oil in a large pot and sauté bacon, garlic, onion, celery, carrot and rosemary for 5 to 7 minutes.
Add tomatoes, kale, cabbage, leeks, zucchini, and beans (whole and mashed), bring to a simmer, and cook for 15 minutes.
Add chicken stock and bring to a boil. Reduce heat and let soup simmer, uncovered, until the minestrone has a dense, stew-like texture, about 45 minutes to 1 hour. Stir in basil and parsley. Sprinkle with grated parmesan cheese.
Serve and enjoy!
Notes
Recipe source: Stefano Faita
Looking for more soup recipes? Here are a few more that I made.
Italian Sausage and Vegetable Soup