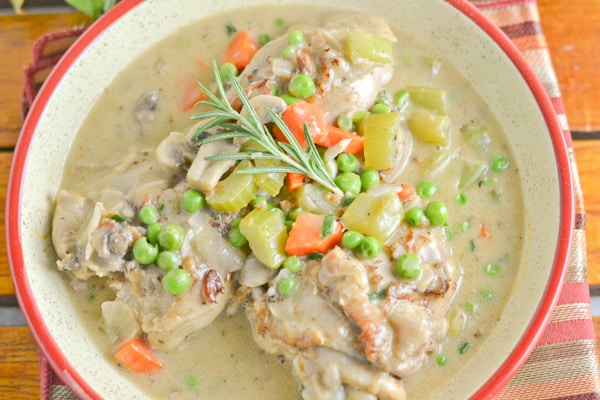 We have been lucky to have plenty of dry and sunny days this summer. It ended yesterday with lots of rain in the forecast up until next week. This is good especially for the plants and grass that have been without water for so many days.  The rain continues today and it comes with strong wind as well. It is a good day to have soup or stew to keep us nice and warm. I have this chicken stew recipe that I have been wanting to make and today is the perfect time to make it. It basically consists of chicken and vegetables in a creamy tasty sauce. The taste and texture of the sauce reminds me of the cream of mushroom soup. This delicious chicken stew is hearty and a comforting meal to have on a cold rainy day like today. Enjoy!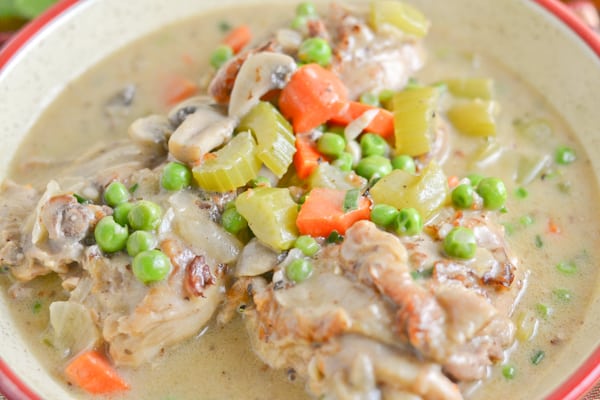 Chicken Stew
Ingredients
3 lbs chicken pieces of your choice (I used boned-in, skin-on chicken thighs)
¼ cup unsalted butter
1 large onion, chopped
4 cloves garlic, minced
½ cup all-purpose flour
2 cups chicken broth
2 carrots, diced
2 stalks celery, diced
1 cup sliced white mushrooms
1 tsp minced fresh thyme or rosemary
2 or 3 bay leaves
A sprinkle or two of sea salt and freshly ground pepper
½ cup heavy cream (35%) or sour cream
2 or 3 green onions, thinly sliced
1 cup frozen green peas
Instructions
Melt butter in a large heavy saucepan over medium heat. Add a single layer of chicken pieces and patiently brown them until they're caramelized on all sides. Remove from the pan and rest on a plate. Repeat with any remaining chicken.
Add the onions to the fat and juices remaining in the pan; sauté until golden brown and caramelized. Add the garlic and sauté a few moments longer. Stir in the flour and then whisk in the chicken broth. Bring to a simmer whisking constantly until thickened.
Add carrots, celery, mushrooms, thyme (or rosemary) and reserved chicken and any juices from the resting plate. Season with salt and pepper. Continue cooking over medium heat until the stew returns to a simmer, then turn the heat down to low, just enough to maintain the simmer. The stew is really thick at this point. Don't worry, it will get thinner as it continue to simmer on low heat.
Cover tightly and continue cooking for 30-40 minutes or until the chicken are cooked and vegetables are tender. Add the frozen peas and continue cooking for another 5 minutes. Stir in the cream and green onions. Correct seasonings by adding salt and pepper to taste. Serve immediately or refrigerate for 2 or 3 days then reheat when needed.
Notes
Recipe adapted: "The Best of Chef at Home" cookbook by Chef Michael Smith.