I made this pasta dish for my family and they love it! The spaghetti noodles are dressed with olive oil, crisp diced pancetta, cherry tomatoes, fresh basil and Parmesan cheese. This is so different from the usual tomato sauce based spaghetti noodles that I normally make. It is not only simple to make but is satisfying good as well. I served this refreshing noodle dish with a drizzle of the garlic chili infused olive oil that we bought from our recent trip. My husband loves it so much, he asked if there's left-over for his lunch the next day. Enjoy!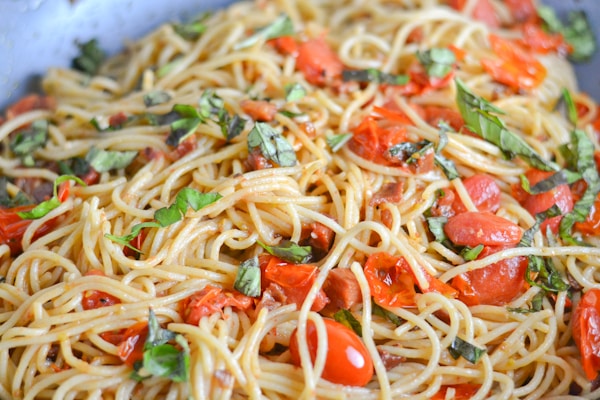 Spaghetti with Pancetta and Cherry Tomatoes
Ingredients
14 oz spaghetti
¼ cup olive oil
6 garlic cloves, chopped
5 oz diced pancetta or bacon
¼ teaspoon dried crushed red pepper
1 lb cherry or grape tomatoes
1¼ cups grated Pecorino Romano or Parmesan cheese, divided
½ cup chopped fresh basil, divided
Instructions
Cook spaghetti in pot of boiling salted water until tender but still firm to bite. Drain, reserving 1 cup liquid. Return pasta to pot.
Meanwhile, heat oil in large skillet over medium-high heat. Add garlic; stir 30 seconds. Add pancetta and crushed red pepper; sauté until pancetta is crisp, about 3 minutes. Add tomatoes; sauté until soft, about 3 minutes.
Transfer tomato mixture to pot with pasta. Add ¾ cup cheese and ⅓ cup basil. Toss over medium heat until cheese melts and sauce coats pasta, adding cooking liquid by ¼ cupfuls if dry. Season with salt and pepper. Transfer to bowl. Sprinkle with basil. Serve remaining cheese alongside.