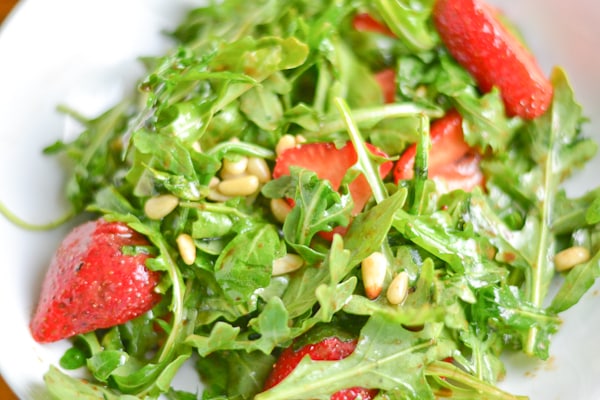 Wow! What an insane weekend! On Saturday, our city was hit by a windstorm that left many residents without power for at least a day. Our area did not have power for 29 hours! So far, this is the longest time that I have experienced a power outage since our family immigrated here in 1992. It reminds us how unprepared we are in time of emergency and it also shows how much we depend on technology. Despite this disruption, I still had a relaxing and stress-free summer break. I was able to balance my time between my blog and my personal life. I was able to spend time with my family, go for walks, bike, hike and even tried whitewater rafting! I am enjoying this last week of summer break before I head back to work next week.  I have been enjoying the last few batches of the fresh strawberries from my garden. I found a good salad recipe that made use of these fresh berries. It was paired with my favorite greens, arugula. A fennel balsamic dressing completes this awesome duo. Serve this strawberry arugula salad with chicken or beef and you have a light and delicious meal to enjoy!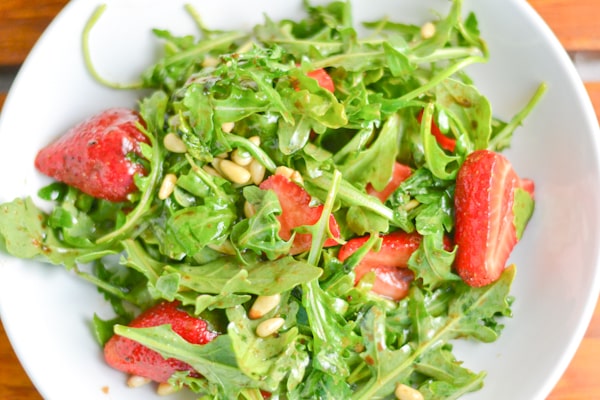 Strawberry Arugula Salad
Ingredients
4-6 handfuls of arugula
2 cups sliced strawberries
½ cup pine nuts
Fennel Balsamic Dressing:
¼ cup extra virgin olive oil
2 tbsp balsamic vinegar
½ tsp honey
½ tsp Dijon mustard
¼ tsp ground fennel seed
Sea salt and freshly ground pepper
Instructions
In a large bowl, whisk together olive oil, balsamic vinegar, honey, mustard and ground fennel seed. Season with salt and pepper, to taste.
Add arugula, strawberries and nuts. Gently stir until well combined. Serve on its own or as a side dish with your favorite meat.
Notes
Recipe source: "The Best of Chef at Home" cookbook by Chef Michael Smith.