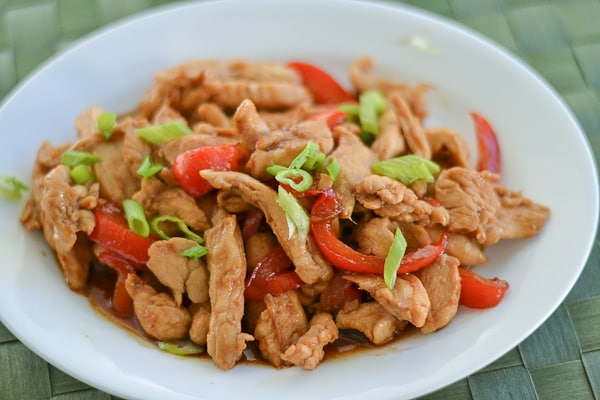 I came home late from work the other day so I had only a short time to fix dinner for my family. I also had a lot of chicken in the freezer, so I decided to thaw it in the morning and make this dish after getting home from work. This chicken teriyaki stir-fry recipe is a simple and easy dish to make if pressed for time. It only took me 25 minutes to have a delicious and healthy dinner ready. Many of the ingredients that I used were already in the pantry, which made it even easier to make. I used chicken breast in this recipe, but you could also use chicken thighs instead for a different texture.
Chicken Teriyaki Stir Fry
Ingredients
6 tsp olive oil
4(6-oz) boneless, skinless chicken breasts, trimmed and sliced into ¼ inch thick
1 red bell pepper, stemmed, seeded, and sliced thinly
1 jalapeno chilli, stemmed, seeded, and sliced thin (optional)
3 green onions, sliced thin on bias
Teriyaki sauce
⅓ cup soy sauce
¼ cup sugar
2 tbsp mirin
1 tbsp grated ginger
1 tsp cornstarch
Instructions
Whisk teriyaki sauce together in a bowl. Heat 2 tsp oil in 12-inch non-stick skillet over medium-high heat. Pat chicken dry with paper towels. Add half of the chicken to skillet, breaking up any clumps, and cook until lightly browned, about 5 minutes. Transfer to a plate. Repeat with 2 tsp oil and remaining chicken.
Add remaining 2 tsp oil, bell pepper, and jalapeno, if using to now- empty skillet and cook until just softened, about 3 minutes. Return chicken and any accumulated juices to skillet and toss to combine. Whisk sauce mixture to reconstitute, then add to skillet and cook, stirring constantly, until slightly thickened, about 1 minute. Garnish with green onions and serve.
Enjoy!
Notes
Recipe source: America's Test Kitchen: The Best Simple Recipes.