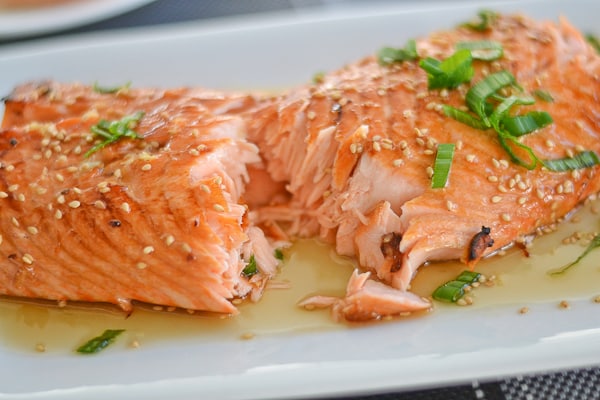 Not only does this broiled salmon dish look appetizing, it is also very delicious. The caramelized top and crunchy edges along with the sweet honey glazed makes this dish a hit with my family. I am so glad I found this recipe. It will definitely be a good addition to my long list of salmon recipes. Have this moist salmon dish with steamed rice or with your favorite greens. Enjoy!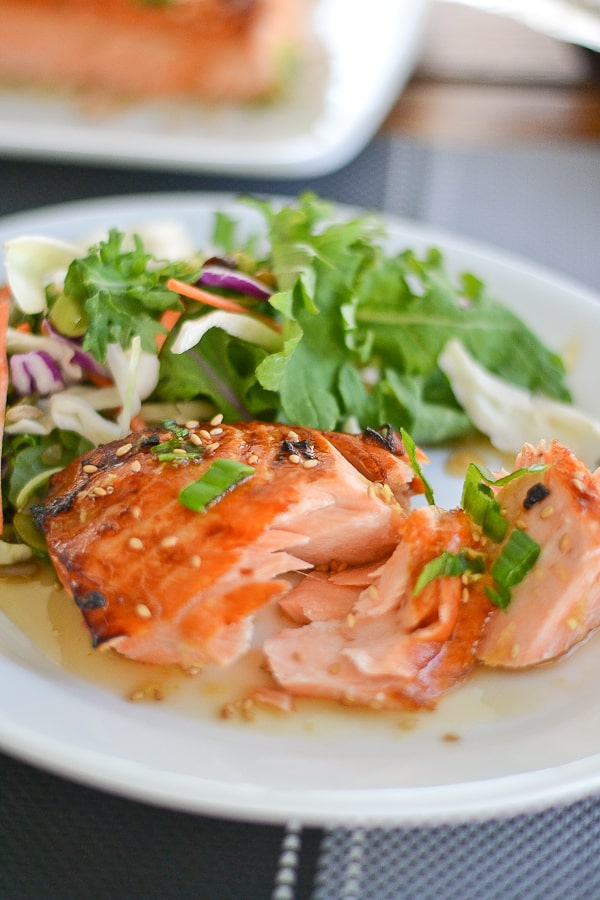 Broiled Salmon with Ginger Honey Glaze
Ingredients
1½ lbs salmon fillet
¼ cup olive oil
2 tablespoons sesame oil
2 tablespoons rice vinegar
2 tablespoons brown sugar
2 tablespoon soy sauce
2 garlic cloves, minced
1 tablespoon freshly grated ginger
1-2 tablespoons toasted sesame seeds
4 green onions, sliced
Salt and pepper to taste
Honey glaze
¼ cup honey
1 teaspoon sesame oil
1 teaspoon soy sauce
½ teaspoon freshly grated ginger
½ teaspoons toasted sesame seeds
Instructions
In a large baking dish, combine olive oil, sesame oil, soy sauce, garlic, ginger, vinegar, brown sugar; whisk until well combined. Add salmon to the dish then refrigerate and marinate for 30 minutes, turning salmon over halfway through.
Preheat the broiler (on high) in your oven.
Line a baking sheet with aluminum foil and place a wire rack over top. Spray the rack with non-stick spray.
Remove salmon with kitchen tongs and place directly on the wire rack. Sprinkle with a little bit of salt and pepper, and then place the baking sheet with the salmon directly under the broiler. Cook for 10-12 minutes or until opaque and easily flakable with a fork. Broiling time may vary depending on the oven and thickness of the salmon. Transfer to a plate.
In a bowl, combine all ingredients for the honey glaze. Pour over the broiled salmon. Serve with a sprinkling of toasted sesame seeds and green onions.
Enjoy!
If you enjoyed this healthy baked salmon dish, here are some others that I have made:
Salmon with Creole Mustard Sauce
Roasted Salmon with Potatoes and Mushrooms
Oven Poached Salmon with Honey and Thyme