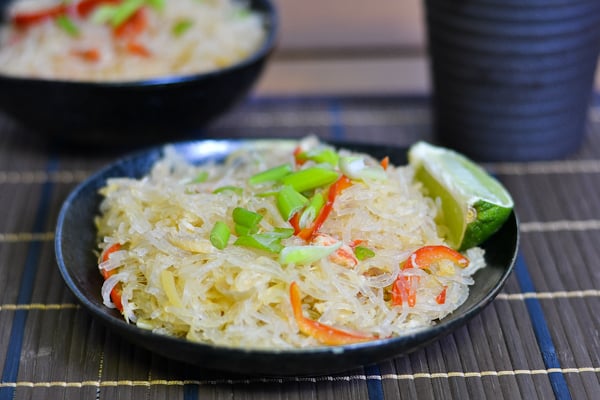 This Vermicelli and Crab Meat Stir Fry recipe caught my attention because it has some of my favorite ingredients, vermicelli and crab. It is also simple and easy to make.  The combination of garlic, shallots and lemon grass gives this dish so much flavor and aroma. The addition of fish sauce and lime juice makes this dish even more flavorful. I find this dish very refreshing and delicious. One reminder though, makes sure you slice the lemon grass really fine or place them in the food processor and processed them really well. This way, you won't have the annoying big slices of lemon grass with your noodles. Enjoy!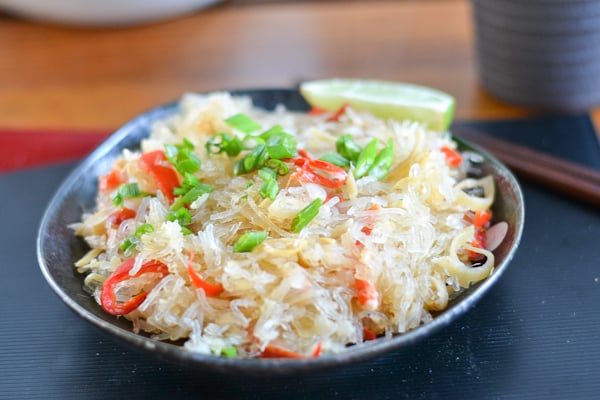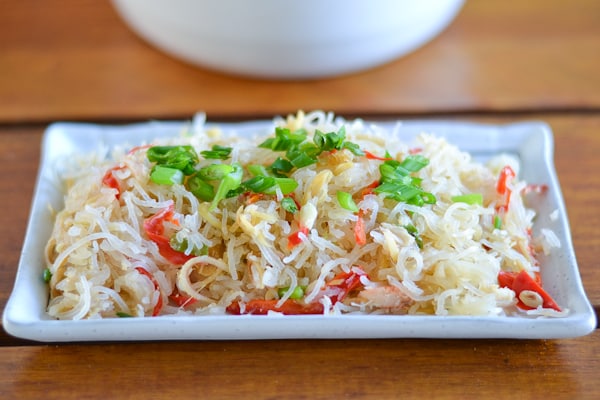 Vermicelli and Crab Meat Stir Fry
Ingredients
200g dried bean thread vermicelli
2 tablespoons olive oil
3 shallots, very finely chopped
3 cloves garlic, finely chopped
2 stems lemon grass (white part only), smashed and very finely sliced
1 red bell pepper, cut into thin 1 ½ inch matchsticks
170g (5 ½ oz) can crab meat, well drained
2 tablespoons fish sauce
2 tablespoons lime juice
2 teaspoons sugar
3 green onions, cut into very fine diagonal slices
Instructions
Soak the noodles in hot water for 20 minutes or until softened; drain. Using scissors, cut the noodles into short lengths for easy eating.
Heat the oil in a wok or heavy-based pan; add the shallots, garlic and lemon grass and stir-fry over high heat for 2 minutes.
Add the red pepper and cook for 30 seconds, tossing well.
Add the vermicelli and toss. Cover and steam for 1 minute, or until the vermicelli is heated through.
Add the crab meat, fish sauce, lime juice and sugar and toss well, using two wooden spoons.
Season with salt and pepper to taste, sprinkle with the green onions.
Serve and enjoy!
Notes
Recipe source: The Essential Asian Cookbook