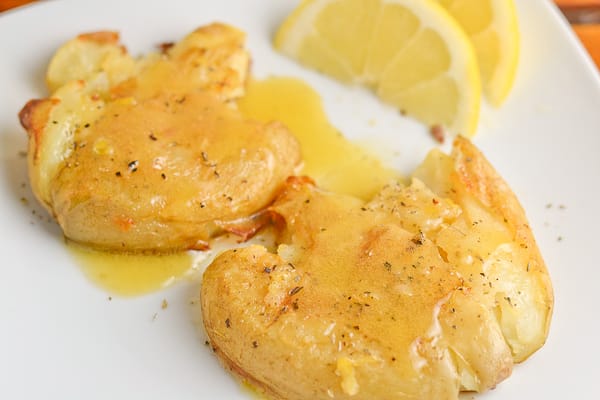 We had these awesome rib-eye steaks for dinner the other night. I served them with this equally awesome potato side dish. I used yellow potatoes, which is my favorite kind to use nowadays. I like the dense creamy texture as well as the mild buttery flavor. The potatoes were first cooked in salted boiling water until fork tender and then roasted in the oven until crispy. They were dressed with this refreshing lemon Dijon dressing and sprinkled with dried oregano. They were crispy on the outside and velvety delicious inside.  They were truly the perfect match for the rib-eye steak. Enjoy!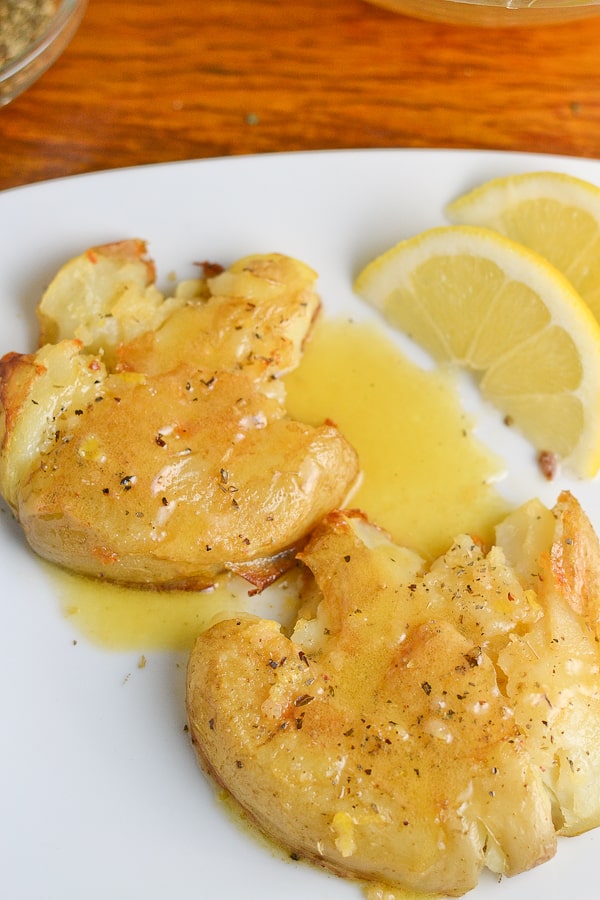 Crispy Potato with Lemon Dijon Dressing
Ingredients
1½ lbs medium yellow potatoes (about 8), well washed
Sea salt
2 tbsp red wine vinegar
2 tbsp fresh lemon juice
1 tbsp finely grated lemon zest
1 tbsp Dijon mustard
1 tsp honey
½ cup extra-virgin olive oil
Freshly ground black pepper
1 tbsp dried oregano
Instructions
In a 6- to 8-quart pot, combine the potatoes and enough cold water to cover by 2 inches. Add 1 tablespoon salt, bring to a boil, reduce to a simmer and cook until tender enough to be easily pierced with a metal skewer, 15 to 20 minutes.
Meanwhile, in a small bowl, whisk the vinegar, lemon juice and zest, mustard, honey and a pinch of salt. Slowly whisk in the ½ cup olive oil until the dressing is emulsified. Season to taste with salt and pepper.
Without draining it, transfer the pot to the sink. Slowly cool the potatoes by running cold water into the pot; it will take about 7 minutes. (Cooling them this way creates a dense texture so you can flatten the potatoes without breaking them.) Drain and pat dry the potatoes.
Preheat oven to 400 °F. Line a baking sheet with foil. Brush the foil with olive oil. Transfer the potatoes onto the prepared pan. Using the bottom of a bowl, flatten the potatoes to about ½ inch thick. Brush top of each potato with olive oil.
Roast for 40 minutes or until brown and crispy.
Transfer to a serving plate. Drizzle with the dressing and sprinkle with oregano.
Serve and enjoy!