I know it's time to make banana bread when I see some over-ripe bananas in my bowl of fruits. Not surprisingly, I have more banana bread recipes than any other kind of bread in my collection. So far I have made banana bread with blueberries, with chocolate chips, with coconut and there's even one cooked in a slow cooker. This banana bread recipe is simple and yet incredibly good. Cinnamon sugar was spread in the center of the batter and sprinkled on top as well. The result was moist banana bread with a delicious crunchy top. My husband loves this bread; one slice is not enough for him. I know it's really good when my family asks for more.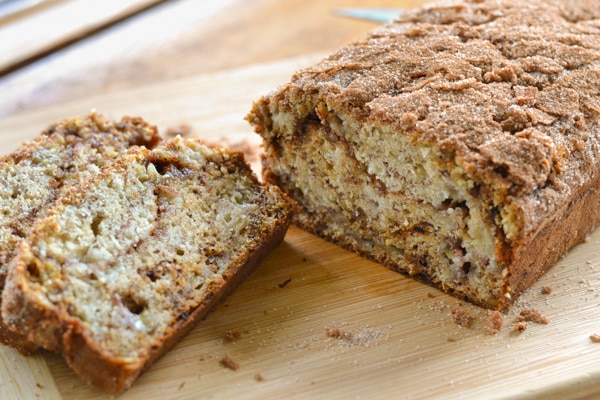 Cinnamon Swirl Banana Bread
Ingredients
3 large over-ripe bananas
⅓ cup melted butter
¾ cup sugar
1 egg, beaten
1 tsp vanilla
1 tsp baking soda
Pinch of salt
1½ cups flour
For the swirl
⅓ cup sugar
1 tbsp cinnamon
Instructions
Preheat oven to 350 °F. Grease and flour 9X5 inch loaf pan.
Mash bananas in large mixing bowl. Add butter, sugar, egg, and vanilla together; mix well. Sprinkle baking soda and salt around on top of the banana mixture. Then gently stir in flour. Be careful not to over-mix!
In a small bowl, mix together the ⅓ cup sugar and 1 tbsp cinnamon.
Add ½ of the batter to the loaf pan and then sprinkle half, or a little more than half of the cinnamon-sugar mixture all over the batter in the pan. Add the rest of the batter, and then sprinkle the leftover cinnamon-sugar on top.
Bake in the center of the oven for 50-60 minutes or until a toothpick inserted in the center comes out clean. Cool completely on rack before removing from pan.
Serve and enjoy!