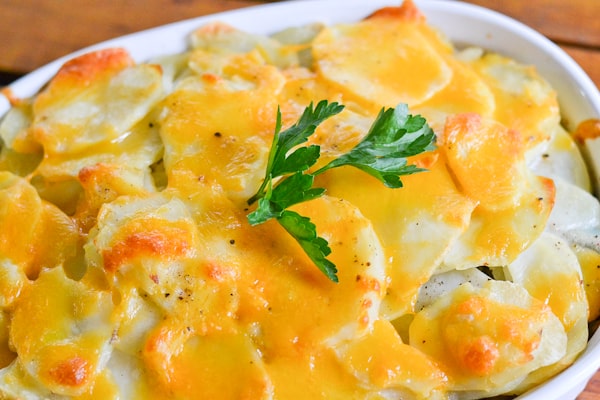 My youngest son and I love this dish so much; we have been eating it for two days.  Last year, I made and shared a similar dish and named it "shepherd's pie". People kindly corrected me by telling me the difference between cottage and shepherd's pie. According to them, shepherd's pie is made from lamb while cottage pie is from beef.  In this recipe, the beef mixture was topped with scalloped potatoes instead of the mashed ones. The ground beef with mushrooms and vegetables, flavored with fresh thyme, sugar and Worcestershire sauce was already satisfying delicious, topping it with scalloped potatoes made it even better. Enjoy!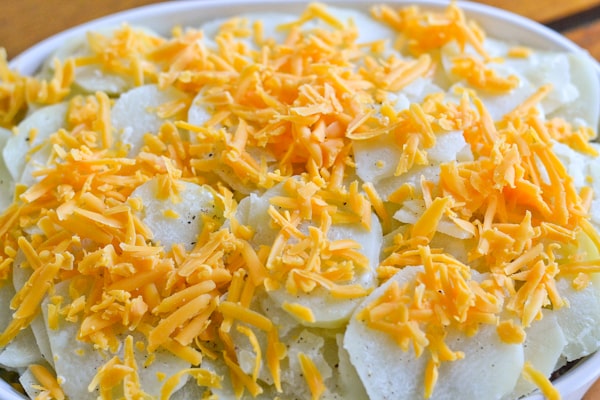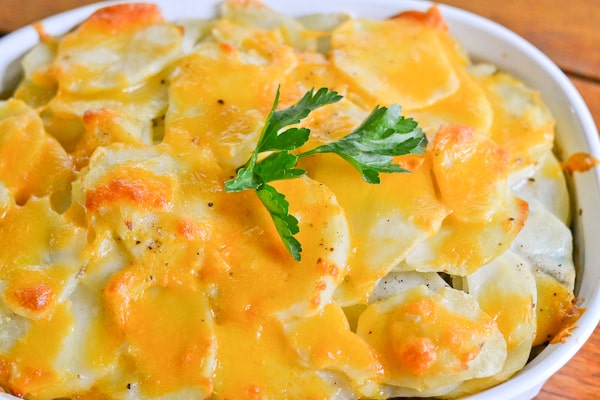 Cottage Pie Topped with Scalloped Potato
Ingredients
1 tbsp oil
2lb lean ground beef
2 onions, chopped
4 sticks celery, diced
¼ cup all-purpose flour
1 cup red wine
1 ¼ cups beef stock
2 tbsp Worcestershire sauce
2 tbsp brown sugar
1 tbsp chopped fresh thyme
250g/9oz cremini mushrooms, sliced
Salt and freshly ground pepper
2 lbs russet potatoes, peeled and thinly sliced
¾ cup heavy cream
1 cup grated cheddar cheese
Instructions
Heat the oil in a hot frying pan and add the beef. Stir over a high heat until golden-brown. Using a slotted spoon, remove the beef from the pan and set aside. Add the onions and celery to the pan and fry until beginning to soften. Return the beef to the pan.
Whisk the flour and wine together in a bowl to make a smooth paste, whisk in the stock and then add it to the pan with the Worcestershire sauce, sugar and thyme. Bring to the boil, stirring until thickened, and then add the mushrooms. Season with salt and pepper. Cover with a lid and simmer for 20 minutes, stirring occasionally until beef is tender. Check the seasoning by adding more salt and pepper if necessary.
Cook the potato slices in boiling salted water for about 4-5 minutes - the potatoes need to be soft. Drain carefully into a colander and leave to cool a little. If the potatoes are too hard they will be waxy and the cream will run off them.
Transfer the cooked meat into an ovenproof shallow casserole dish. Preheat the oven to 425 °F.
Arrange a layer of the blanched potato on top of the beef mixture and pour over half of the cream. Arrange the remaining potato on top, seasoning between the layers. Pour over the remaining cream and sprinkle over the cheese.
Bake in the preheated oven for about 30 minutes, or until golden-brown and bubbling.