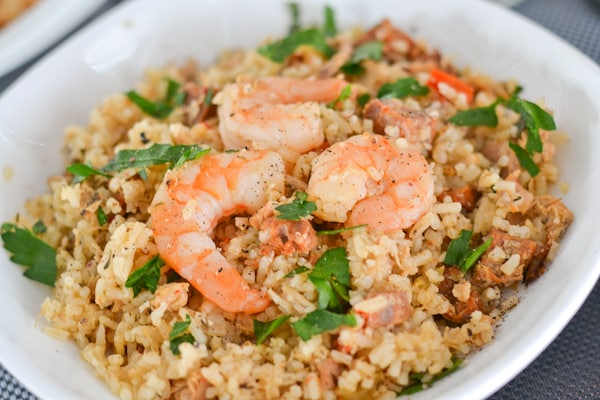 Our family loves one pot rice dishes. Fried rice, paella, kiam pung (Chinese flavored rice) and jambalaya are among our favorites. Jambalaya is my oldest son's favorite. In fact, he orders this dish whenever it is in the restaurant's menu. This jambalaya recipe is different from the normal one that I make in the sense that the meat/vegetable mixture and the rice were cooked separately.  The chicken, sausage, shrimp and vegetables were cooked slowly in a crock pot while the rice was cooked separately in a rice cooker. The cooked rice was afterwards mixed with the rest of the ingredients in the crockpot.  The accumulated liquid from cooking the chicken mixture was used to cook the rice. It gave the rice added flavor and its distinct color as well. I love the taste of this jambalaya dish because the Cajun seasoning used was not too over powering. It was just the perfect taste for me and my family. Enjoy!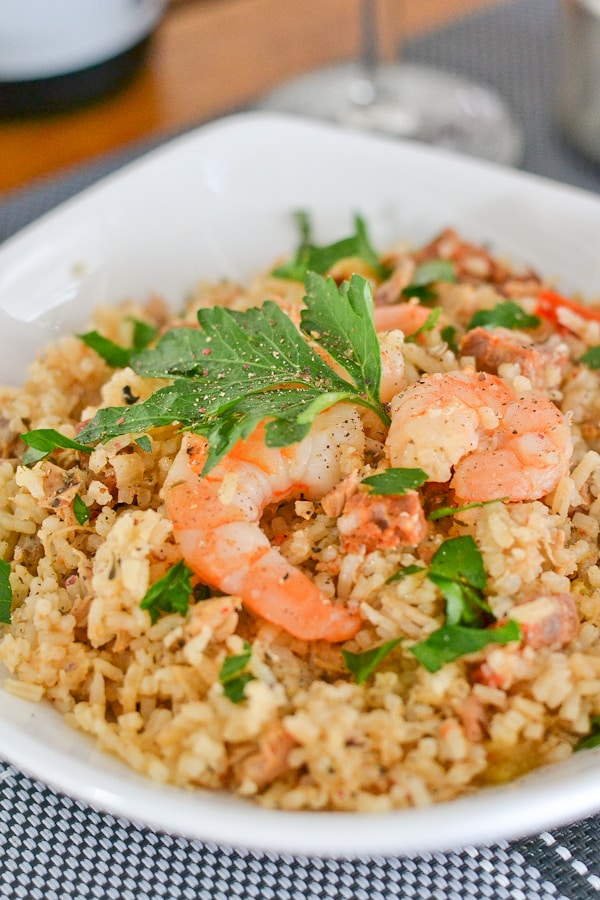 Crock Pot Jambalaya
Ingredients
1 lb boneless, skinless chicken breasts or thighs, cut into 1-inch cubes
1 chorizo sausage, diced
1 (28-ounce) can diced tomatoes
1 medium onion, chopped
1 red bell pepper, seeded and chopped
1 stick celery, chopped
1 cup chicken broth
2 tsp dried oregano
2 tsp Cajun or Creole seasoning
1 tsp hot sauce
2 bay leaves
½ tsp dried thyme
1 lb frozen peeled shrimp, thawed
2 cups white long grain rice, rinsed and drained
Fresh chopped parsley as garnish.
Instructions
In the crock pot, combine chicken, sausage, tomatoes, onion, red pepper, celery, and chicken broth. Stir in oregano, Cajun seasoning, hot sauce, bay leaves, and thyme.
Cover and cook on Low for 8 hours or on HIGH for 4 hours. Drain meats and vegetables; reserve the liquid.
Return drained meats and vegetable in crockpot; stir in thawed shrimps, cover and cook on HiGH for 30 more minutes or until shrimps are cooked.
Cook the rice separately by using a rice cooker or cook it on the stovetop. The rice to liquid ratio is 1:2. In other words, use 2 cups liquids (reserved liquid plus water) for every cup of rice. So for 2 cups of rice, you will need 4 cups of water (I got 2 cups reserved liquid and I added 2 cups water).
Once rice is cooked, mix it into the crock pot. Discard bay leaves. Transfer to a serving plate and sprinkle with fresh chopped parsley.
Serve and enjoy!