Corn soup is by far the most popular soup that is served in any Chinese gathering and is loved by both children and adults.  There are different versions of this soup and one of them uses ground chicken as the main protein.  However, it is quite difficult to find ground chicken in supermarket, so what I would do is to use food processor to grind the chicken meat.  So if you are not very fond of crabs, ground chicken would make an excellent substitute.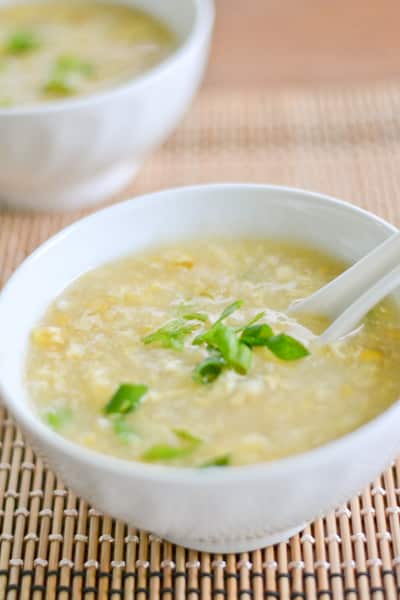 Crab and Sweet Corn Soup
Ingredients
3 cups water
1 chicken bouillon cube
1 120g can crab meat, drained
1 398 ml can creamed style corn
¼ cup cornstarch dissolved in ¼ cup water
1 egg, lightly beaten
2 green onions , chopped
salt and white pepper to taste
Sesame oil
Instructions
Bring water and bouillon cube to a boil. Add crab meat and corn. Simmer for 2 minutes. Season to taste.
Slowly add the cornstarch mixture, stirring until the soup thickens.
Remove from heat, immediately pour in beaten egg in a steady stream to form flower patterns on the surface.
Drizzle with sesame oil and sprinkle with green onions.
Serve immediately and enjoy!